Bollywood Journalist and Film Critic Yogesh Mishra received IIIA Awards 2023
2 min read
Bollywood Town, a renowned monthly English magazine, gets awarded once again. This received the IIIA Awards 2023 (India International Influencer Awards 2023) for "Most Popular Bollywood Magazine." Legendary grandmaster Shifuji Shaurya Bharadwaj presented this prize to Yogesh Mishra, Editor-in-Chief of "Bollywood Town." Held on October 28, 2023, at the Orchid Hotel in Mumbai, notable personalities from Bollywood, fashion, politics, influencers, and the media set the award event ablaze. This award event was organised by Eventz Factory, which is led by Kunal Thakkar.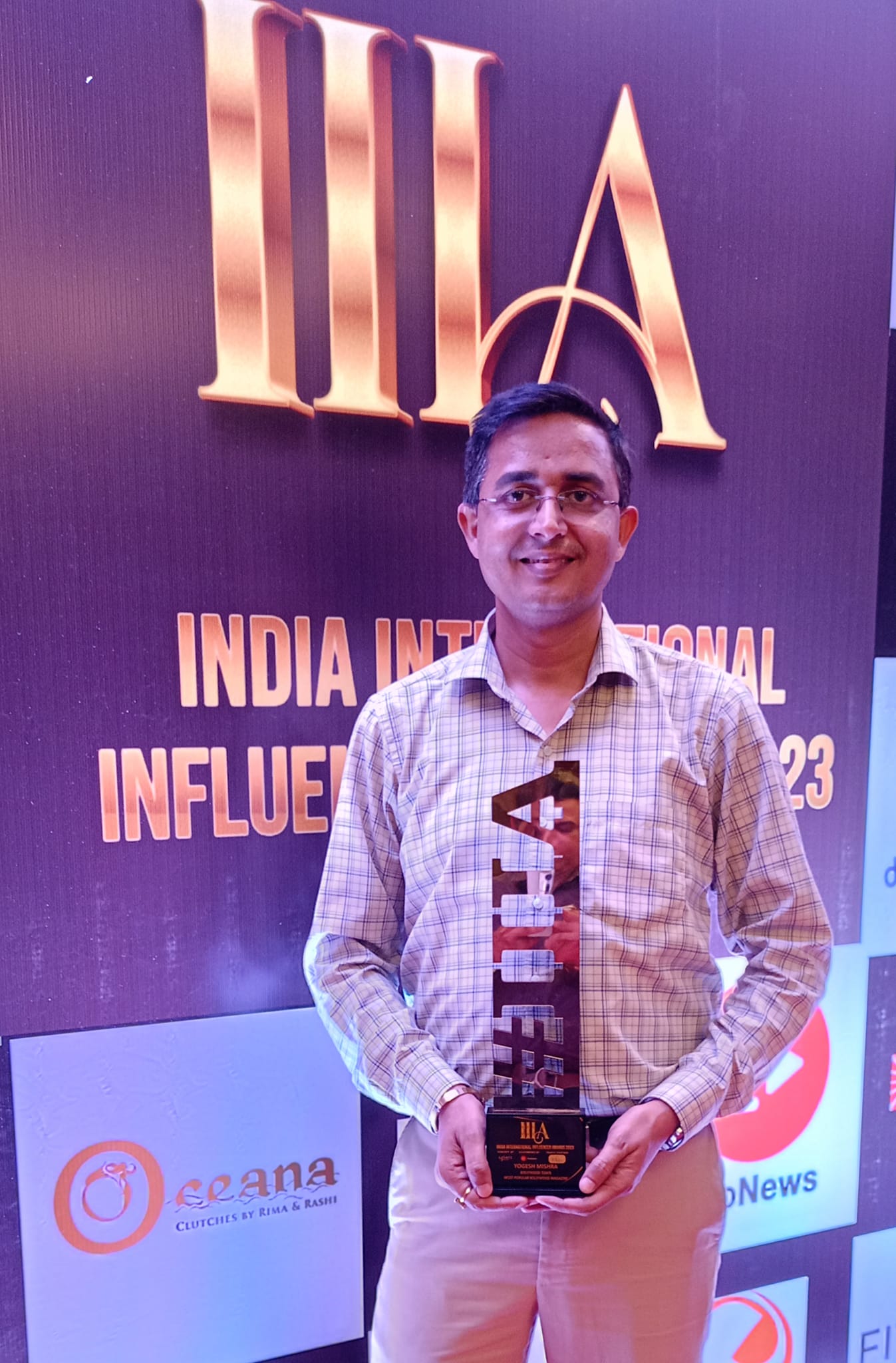 After receiving the award, Yogesh Mishra says, "I am grateful to the organizers and jury members of the award show who selected our magazine for this prestigious award. This was not possible without the love and support of our readers, advertisers, and well-wishers, who continuously support our aim of reaching moviegoers by giving the newest and most trending news and spicy gossip on whatever is occurring in and around Bollywood. After eight years in the Indian market, we have ambitious intentions to expand internationally. Keep wishing more luck to us."
Yogesh Mishra is a well-known Bollywood journalist and film critic. Currently, he is the Editor-in-Chief of Bollywood Town, a Mumbai-based journal published by Spot Communications. In addition to being a journalist, writer and TV personality, he has twenty years of experience in the media. His transition from employee to employer and from media marketing to Bollywood journalism is very remarkable. Having obtained three master's degrees in English literature, business administration, and journalism and mass communications, he is exceptionally qualified academically.
"Bollywood Town" is India's one of the top monthly English magazine. With the intention of offering in-depth news, views, and gossip on movies, TV shows, and the fashion sector, it was established in August 2015. Headquartered in Mumbai, the organization has expanded to multiple other major cities. In addition to print, its news portal and YouTube channel are the fastest-growing digital and internet platforms that provide consumers with access to the most recent information about the entertainment industry worldwide.
The award ceremony took place in the presence of chief guest Amruta Fadnavis, Guest of Honor Anees Bazmee, Legendary Grandmaster Shifuji Shaurya Bharadwaj, and many other celebrities from Bollywood, television, OTT, influencers, professionals, and entrepreneurs. The event was co-powered by Jio News with Radio Partner 92.7 Big FM, Fragrance Partner ASG Perfumes, Trophy Partner Whitix, Style Partner Oceana Clutches, Jewellery Partner Pylon, Gifting Partner Sachin Enterprises & Glitters Sparkles, magazine partner Downtown Mirror & Fitvilla, Supporting Partner Bollywood Town, Outdoor Partner Bright, and entertainment partner Starplug.