Dance to Noble Tunes: Showglitz Navratri Utsav 2019 to donate proceeds for Maharashtra flood relief
3 min read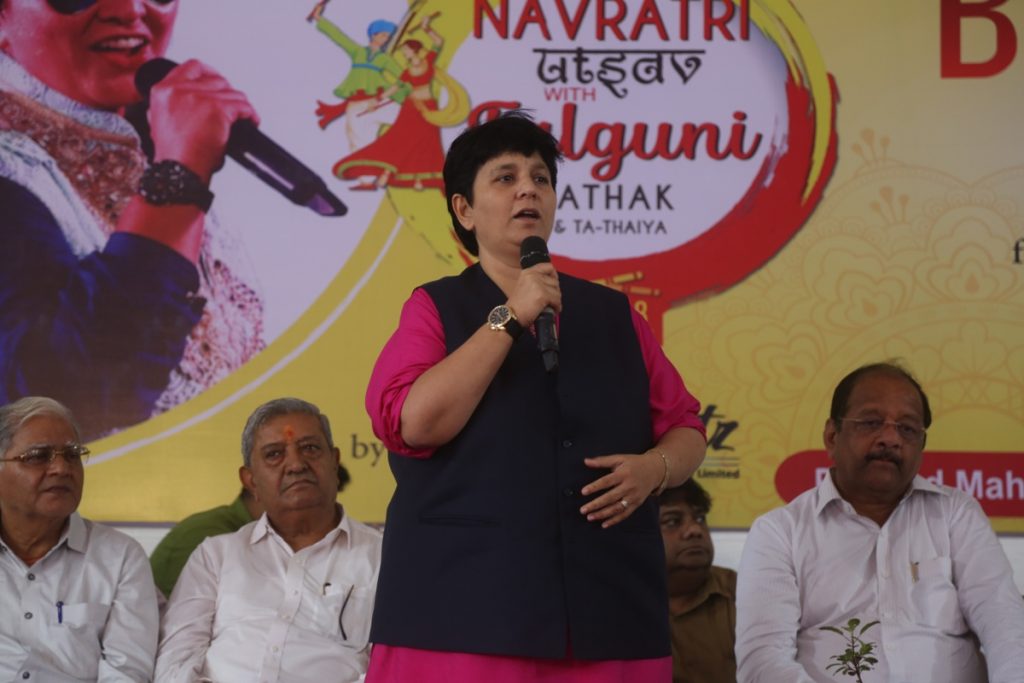 • Navratri organisers donated Rs. 11,00,000 today and announced to turn over all the proceeds of 2nd October(Gandhi Jayanti) for relief work in CM fund at the Bhoomi Pujan, gear up for a cause-worthy Dandiya festival!
Mumbai, 31st August 2019:This Navratri, get ready to step up and match the beats that reverberate in your heart to a cause! The sugary notes of Falguni Pathak, as she takes to the Borivali stage will be combined by a fund-raising exercise for the recent floods. This was announced at the Bhoomi Pujan for Showglitz Navratri Utsav 2019 with Falguni Pathak on Saturday morning, August 31.
Contribute to a worthy cause
Keeping in mind the tragedy and toll that the recent floods have wreaked across Maharashtra, the organisers of the Showglitz Navratri Utsav 2019 have decided to donate a day's worth of collections from the mega event to the Maharashtra Chief Minister's Relief Fund. The collections would be specifically donated for relief work required in Kohlapur and Sangli districts.
This announcement came through at the Bhumi Pujan ceremony for the mega festivities on Saturday. Organised by Showglitz Events and Entertainment, the Navratri Utsav with Falguni Pathak and Ta-Thaiya is a 9-day extravaganza with vigour, enthusiasm and dance-induced mayhem. The organisers donated Rs. 11,00,000 today to the CM relief fund on the occasion of Bhoomi Pujun and announced that out of the 9 days of Navratri, the organisers have chosen to earmark all collections from Gandhi Jayanti on October 2, as donation to the CM's Relief Fund.
Traditionally, the Navratri extravaganza begins with a holy consecration, or Bhoomi Pujan, which took place on Saturday. The event was attended by attended by BJP MP Gopal Shetty, ministers from Maharashtra, Vinod Tawde (Minister of Higher and Technical Education), and Yogesh Sagar (Minister of State for Urban Development). They were joined at the occasion by sitting MLAs Manisha Chaudhary, Vijay Bhai Girkar, Vilas Potnis and Aslam Shaikh.
"We are thankful for the guidance of Gopal Shetty, Vinod Tawde, Ashish Shelar and Yogesh Sagar in making this year's festivities at Borivali a reality. We hope that our contribution bring succour and the Goddess' blessings to all those people who are reeling under the impact of these floods," said Santosh Singh and Shiva Shetty, Organisers, Showglitz Event and Entertainment Pvt. Ltd.
A four-year tryst with Falguni
This year's Navratri Utsav marks a four-year-stint for Falguni Pathak at the Borivali-based Pramod Mahajan Sports Complex. The singer has become synonymous with the mad energy and vigour of the Navratri festivities, especially in Mumbai. In fact, we can barely imagine a Garba night without one of her peppy numbers – from the foot-tapping Jhanjhariya to the timeless Indhina Vinwa. That's why the organisers of the Navratri Utsav 2019 are eagerly confirming her performance at the mega event ahead of the season.
"The vibe at Borivali and enthusiasm of the people keep bringing me back here over and over again", gushed Falguni Pathak as she added her good wishes to the event.
The Navratri Utsav with Falguni Pathak and Ta-Thaiya takes place this year from September 29 to October 8. The singer and her band completed 25 years of melody last year with odes to romantic notions of love peppered in all of her work. Her music is characterised by strong influences from traditional music forms for Gujarat, making it the perfect set of sound bytes for a Garba night or Dandiya festivities.
The Navratri Utsav is a mega event of massive proportions at the Pramod Mahajan Sports Complex. Spread across 13-acres of ground area, it would see approx. 30,000 to 35,000 Garba enthusiasts descend into vigour-filled dance frenzy every day on a 2,00,000 sqft wooden dance floor. In order to ensure that it is a smooth operation, the organisers have roped in around 200 bouncers (men and women) as well as over 100 volunteers.
They have also arranged for over 100 CCTV cameras and a fire brigade truck, ambulances and doctors at the event. For adequate parking, the venue can accommodate over 1000 cars.