Legendary lyricist Rajinder Krishanji's family paid a musical tribute on His 104th Birth Anniversary
3 min read
Rajinder Krishan has written more than 1600 songs in 260 Hindi Films + in 2 Punjabi Films. He has also written screenplays and dialogues in many films including 'Padosan', in which He wrote the Lyrics, Dialogues and Screenplay. His sons- Rajiv Duggal and Rajesh Duggal + His granddaughters paid tribute to Him with an event of His songs, along with their close friends on Rajinder Krishan's 104th Birth Anniversary!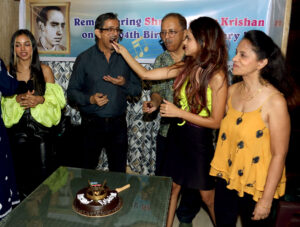 His granddaughters- Riya and Simran- daughters of Rajiv and Melanie Duggal, are talented singers who have accompanied & performed with many Established singers on their Live shows within the country and abroad. They have formed a musical band- 'Simetri' (named After Simran & Riya) having inherited their understanding of music from their Father- Rajiv Duggal, who has composed music for TV serials & Jingles + private albums!
Rajesh Duggal, the 3rd son of Rajinder Krishan, said, "My father and Sunil Dutt were very close friends. Instead of celebrating our birthdays at home, we often went to Sunil Dutt's place to celebrate their Joint Birthdays. All the songs of late actress Sadhnaji's productions were written by my father. He also wrote songs for Her 1st acting assignment- 'Love in Simla', and Her last film- 'Geeta Mera Naam'!  He wrote about 525 songs for Lata Mangeshkar and more than 340 songs sung by Mohammad Rafi, amongst more than 1600 songs in his four decade long career.
My favourite songs, among the gems He Wrote include 'Yun Hasraton Ke Daag', 'Ye Zindagi Ussi Ki Hai', 'Pal Pal 'Dil Ke Paas', 'Hum Pyar Mein, Jalne Walon ko'. Incidentally, My father's favorite song from 'Adalat' was 'Jaana Tha Humse Duur'.
In 1971, Rajinder Krishan struck a jackpot of Rs 48 lakh in the Derby races. His son shared how everyone thought he would quit his career in writing because he had won such a lot of money, But he continued to passionately write songs and never stopped till the End!
Rajinder Krishan's granddaughters- Riya and Simran Duggal said- "I wish we could have met him. His writings, songs, and his memories will always be around us. We keep singing many of his songs in shows including 'Eena Meena Deeka', Aplam Chaplam' and 'Gore Gore, O Banke Chhore'. We celebrate him every year on His Birthday."
Rajesh Duggal shared how when his father was at home, he used to be very calm and got lost in his writing  He was fun-loving, having great integrity and seriousness towards his work. Rajinder Krishan received the Filmfare Award for Best Lyricist in 1965 for the song 'Tumhi Mere Mandir, Tumhi Meri Pooja', from the film 'Khandaan'!
In His 40+ years in Films, Rajinder Krishan Wrote innumerable songs which are considered classics. The songs written by him for composer Madan Mohan have a completely different style. Having written songs for 41 films with Madan Mohanji, out of which 36 films were released, His ghazals written for film 'ADALAT' – 'Jaana Tha Humse Door, Bahane Bana Liye', 'Unko ye shikayat hai ki hum, kuchh nahin kehte' and 'Yoon Hasarton Ke Daag, Mohabbat Mein Dho Liye' are considered classics.
Rajinder Krishan's specialty was that he wrote songs about diverse human emotions and different phases of life. His super hit songs include 'Jahan Daal Daal Par Sone Ki Chidiya', 'Chal Udd Ja Re Panchhi', 'Kaun Aaya Mere Man Ke Dwaare', 'Tumhi Ho Mata, Pita Tumhi Ho', among thousands of songs.
Rajinder Krishan also wrote the Lyrics and Dialogues of many films as also Screenplays and Story!  Noteworthy names are_ 'Padosan', 'Pyar Kiye Ja', 'Manmauji', 'Sadhu Aur Shaitan', 'Bombay to Goa' amongst the films with Lyrics & Dialogues by him. He Refused to Write Dialogues in many Films where he wasn't writing the Lyrics and yet he wrote Dialogues for nearly 60 films! Many of His works have proved to be Milestones in Hindi Cinema.