New social drama "Rang Jaun Tere Rang Mein" will start on Dangal TV from January 3
4 min read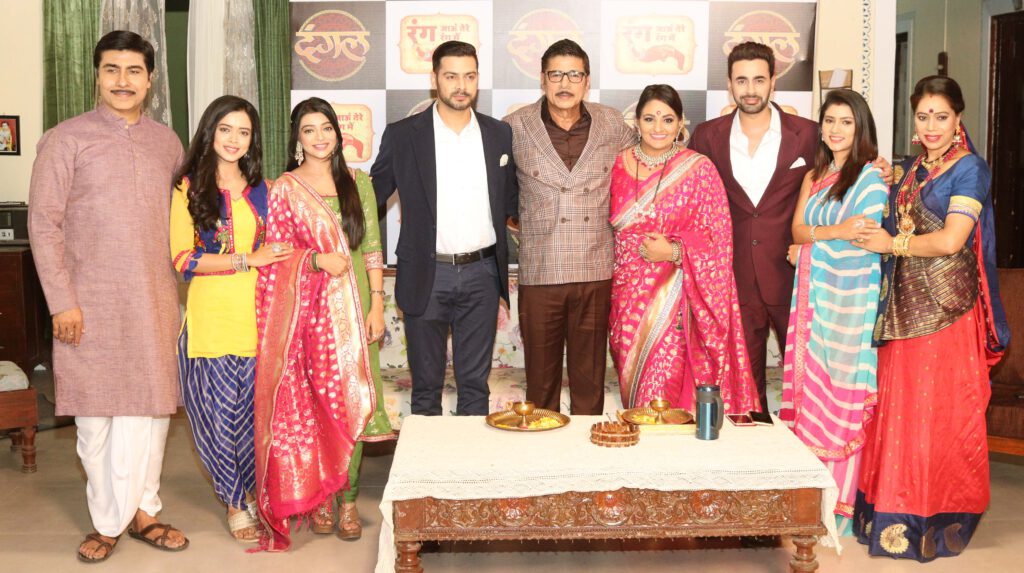 Soon to release show Rang Jaun Tere Rang Mein held a launch event recently. The star cast Sudesh Berry, Megha Ray, Ketki Kadam ,Karam Rajpal among others spoke about the show and their characters.


All set to start the new year with a bang, popular GEC, Dangal TV will be launching a new show "Rang Jaun Tere Rang Mein" on 3rd of January 2022. It can be seen every Monday to Saturday at 9.30 PM .
Rang Jaun Tere Rang Mein is the story of the affluent Pandey family from Lucknow and the comparatively poor Chaubey family from Azamgarh. This show revolves around chance happenings where kismet plays an important role. Both these families in pursuit of a match for their children, as fate would have it they find this match in each other's homes, all seems well until  a tryst with destiny changes the lives of two families forever and sets the premise of the show. To know what's written in the fate of these two family members, then you will have to wait till January 3.
Sudesh Berry who plays a crucial role in the show, during the press conference said, "The pillar of this (Pandey) family is Kashinath Pandey. The show has a lot of ups and downs and turns and twists which will keep the audience entertained. Through this show of Dangal TV, we want to not just entertain the audience but also give a message to society."
Megha Ray said that she is playing the role of Dhani Choubey who is a cracker of a girl. She is carefree and outspoken, and quite opposite to her shy and demure older sister. She will never back down from speaking her mind or taking stand for her family, but never intentionally hurt anyone."

Karam Rajpal said- I play Dhruv Pandey in the show and my character is totally different to what I am in my personal life. While in real life I am quite playful and talkative, in the show I am a much quieter person. Dhruv understands everything very well but he doesn't speak much. He is a simple boy who is a doting son and his family adores him. His goal in life is to take his family business, that of Pandey electronics, to newer heights. But not like he wants to do it all by himself, in the Pandey family one person's growth is everyone's growth. I think the audience is going to enjoy watching our show.

Ketki Kadam said – I am playing the role of Shrishti Choubey and my character is that of a sweet and simple girl who is very calm and composed. She is everyone's favourite in the house too. She is a girl next door who prays first thing when she wakes up. She is loved by everyone and she loves to take care of everyone. The bond she shares with her sister and her family members is very infectious and relatable and I am sure the audience is going to enjoy watching my family and the bond we share with each other on screen.

Diksha Dhami, who's playing the role of Pooja Pandey, said, "I play the role of a bubbly yet simple daughter-in-law. She loves her in-laws so much that she hasn't gone home for 2-3 years."

Udit Shukla said, "He is playing the role of Abhishek Pandey, the elder son of Sudesh Berry, who is a very responsible boy and is handling the family business in the show."

Chaitanya Adeeb also spoke about his character and said, "He is playing the father of the female leads of the show played by Ketki and Megha. His character name is Surendra Choubey who is a farmer. He is a resident of Banaras and wants to educate both his daughters so that they are fully capable and independent. But at the same time he is also looking for grooms for them and how he ends up meeting Kashinath Pandey is what follows as the story progresses." Chaitanya Adeeb further added, "This show is different. Its storyline is unique. Audiences would not have seen such a twist and story on television. There is a story related to the land, the kind of things that happen in any normal family. I am sure people will connect with this story."

Meena Mir, who is playing the role of Kashinath Pandey's sister and aunt of Abhishek and Dhruv, said that she is a very good aunt. Loves her brother, nephews very much, she also has a good relationship with her sister-in-law. This is the kind of character that keeps everyone connected in the family.

Urvashi Upadhyay, who is playing the role of Dhruv's mother Rupa Pandey, said, "My character is such that I love to dress up. I spend a lot of money, and I just want to enjoy life."

Talking about Rang Jaun Tere Rang Mein, Manish Singhal, MD, Dangal TV said, "We at Dangal TV have a great understanding of our viewers  and know the kind of content that keeps them engaged. Rang Jaun Tere Rang Mein is a social drama that is rooted deep in the tradition of marriage, It is more about two families getting together, not just two individuals. And that is the biggest glue that keeps this institution intact in our beautiful country, making for a magic potion that will keep the audience glued."