Miraj Cinemas associates with the 7th Rajasthan International Film Festival as Multiplex Partner
2 min read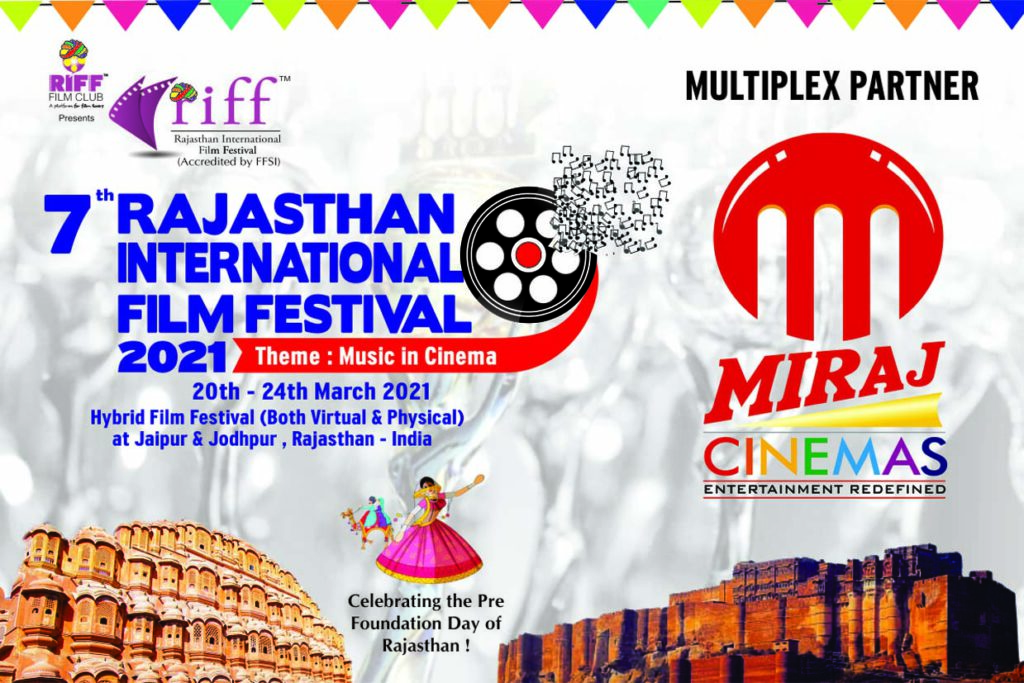 The Grand Opening Ceremony of the 7th Rajasthan International Film Festival (RIFF) will take place on 20th March '21 at Entertainment Paradise (EP) – Miraj Cinemas, Jaipur
 Film to be screened from 21-24th March '21 at Miraj Bioscope Cinemas, Shastri Nagar, Jodhpur
The 7th edition of the Rajasthan International Film Festival (RIFF) accredited by the Federation of Film Societies of India (FFSI) (North Region) will be organized by the RIFF Film Club in a Hybrid Format from 20 to 24th March 2021
at Entertainment Paradise (EP) – Miraj Cinemas, Jaipur
 and 
Miraj Bioscope Cinemas, Shastri Nagar, Jodhpur
, Rajasthan – India. This year the theme for the RIFF 2021 is "Music in Cinema". RIFF 2021 will also celebrate the Pre Foundation Day of Rajasthan.
The Founder, Director and CEO of the Rajasthan International Film Festival (RIFF) Mr. Sommendra Harsh said that "This year for the 7th Edition of the RIFF, Miraj Cinemas has associated with it as its Venue and Multiplex Partner. The year 2020 was a tough phase of time for the Multiplex industry due to COVID-19, the audiences are now eager to go back to cinema halls and this association will be a great step towards inviting the people to come to cinema halls ensuring them about all the safety measures which are been taken" The Opening Ceremony of the 7th Rajasthan International Film Festival 2021 will take place on 20th March 2021 at 
Entertainment Paradise (EP) – Miraj Cinemas, Near Jawahar Circle, Jaipur. 
 Thereafter Film screenings, Open Forums, Talk Shows and much more will be held for the next four days from 21 to 24 March 2021 at 
Miraj Bioscope Cinemas, Shastri Nagar, Jodhpur.
Entries are invited for the Short, Documentary, Animation, Feature, Regional, Rajasthani, and Music Albums for the 7th Edition of the Rajasthan International Film Festival (RIFF) 2021. The films can be submitted at 
www.riffjaipur.org
 and also through FilmFreeWay. The Last deadline to submit the films is 28th February 2021.