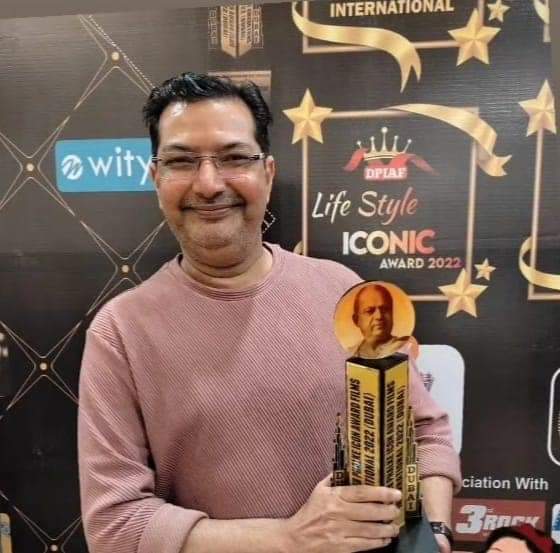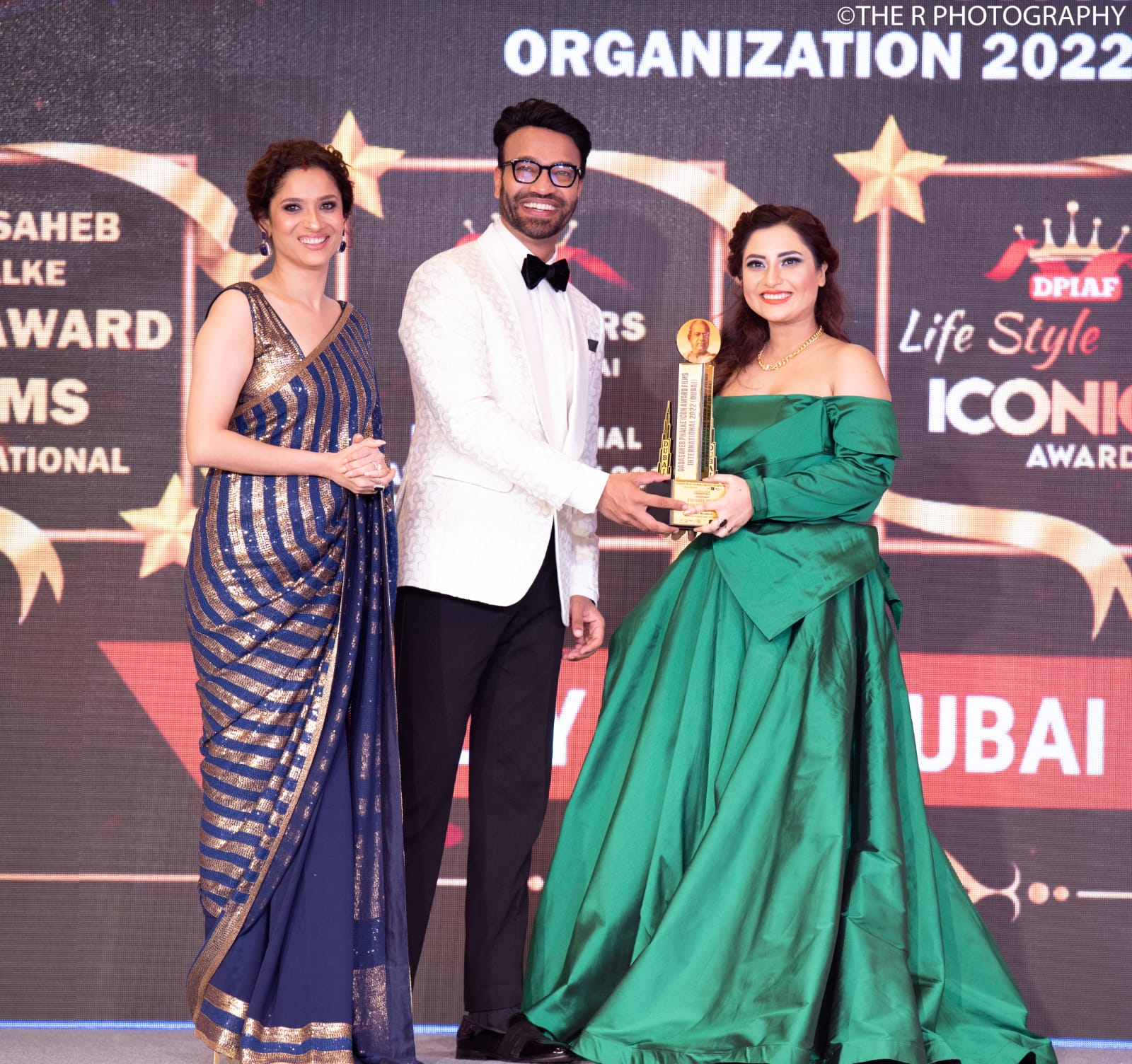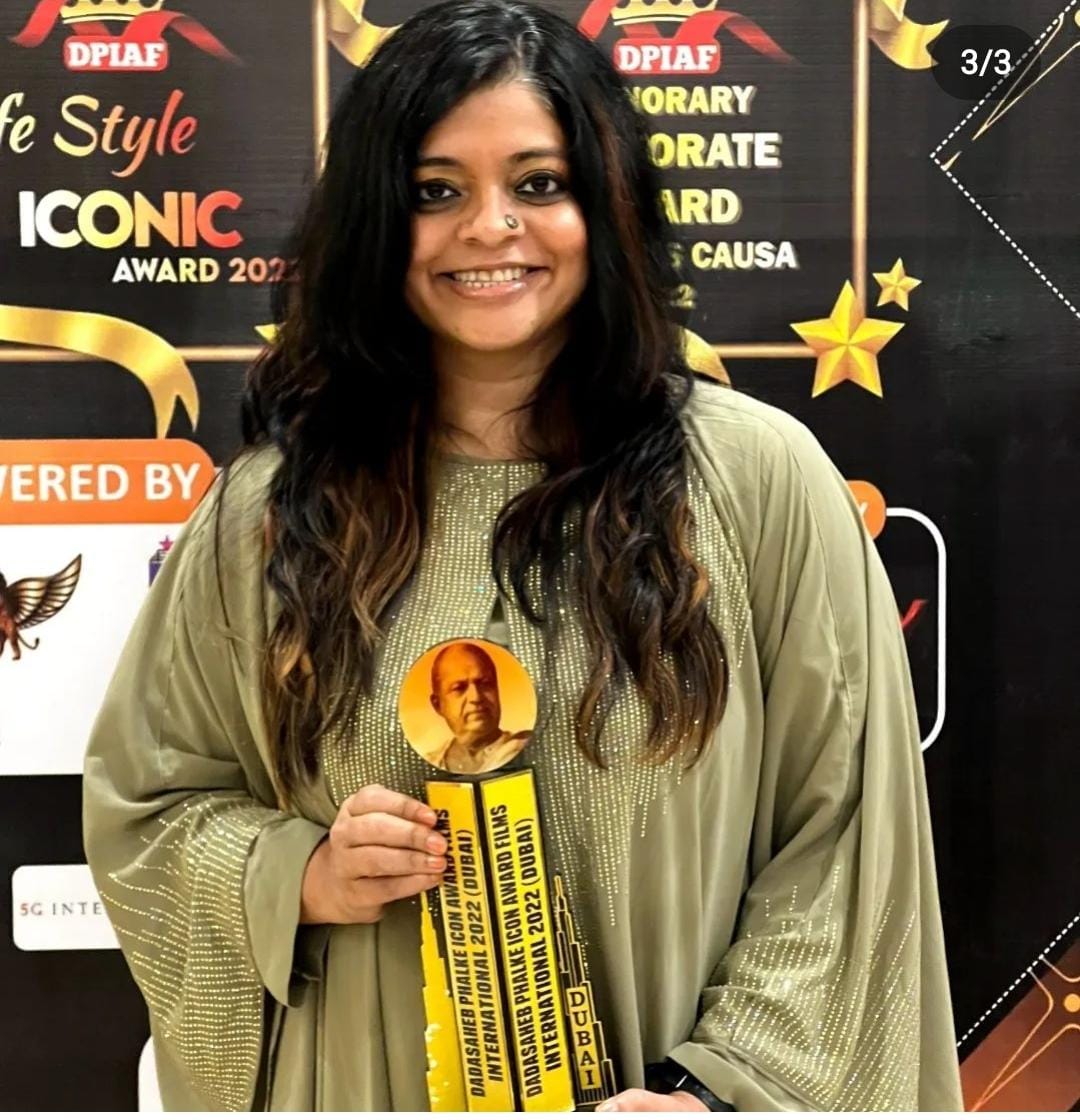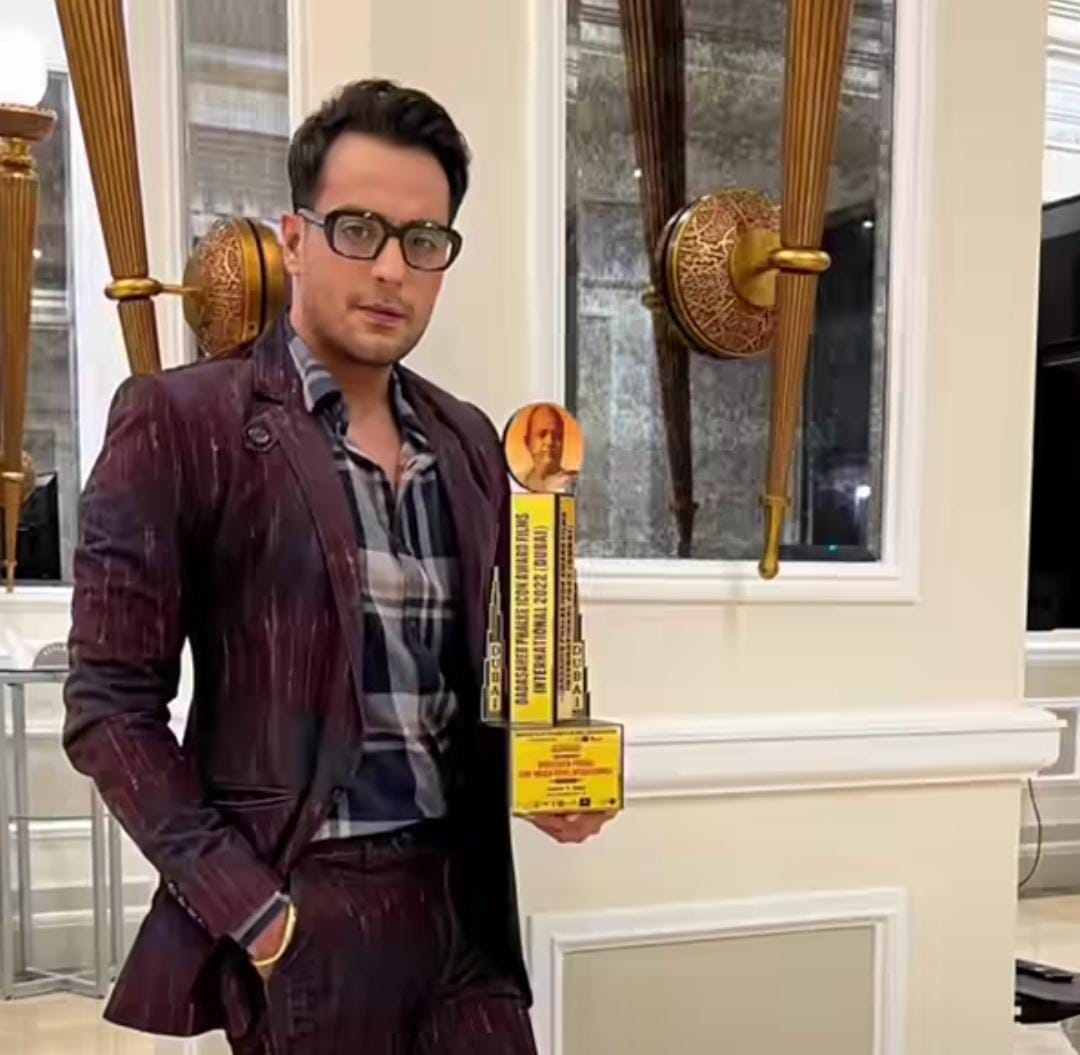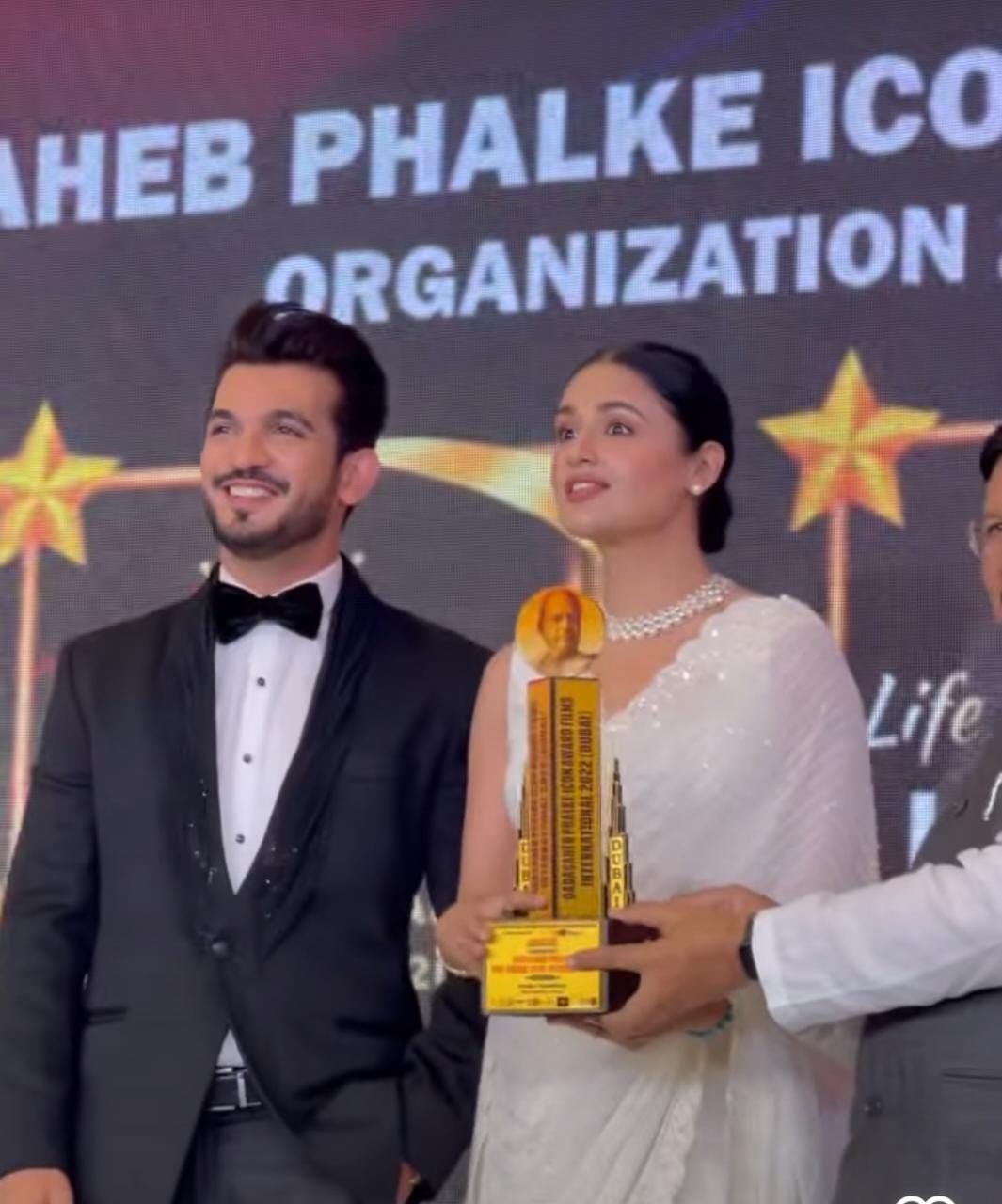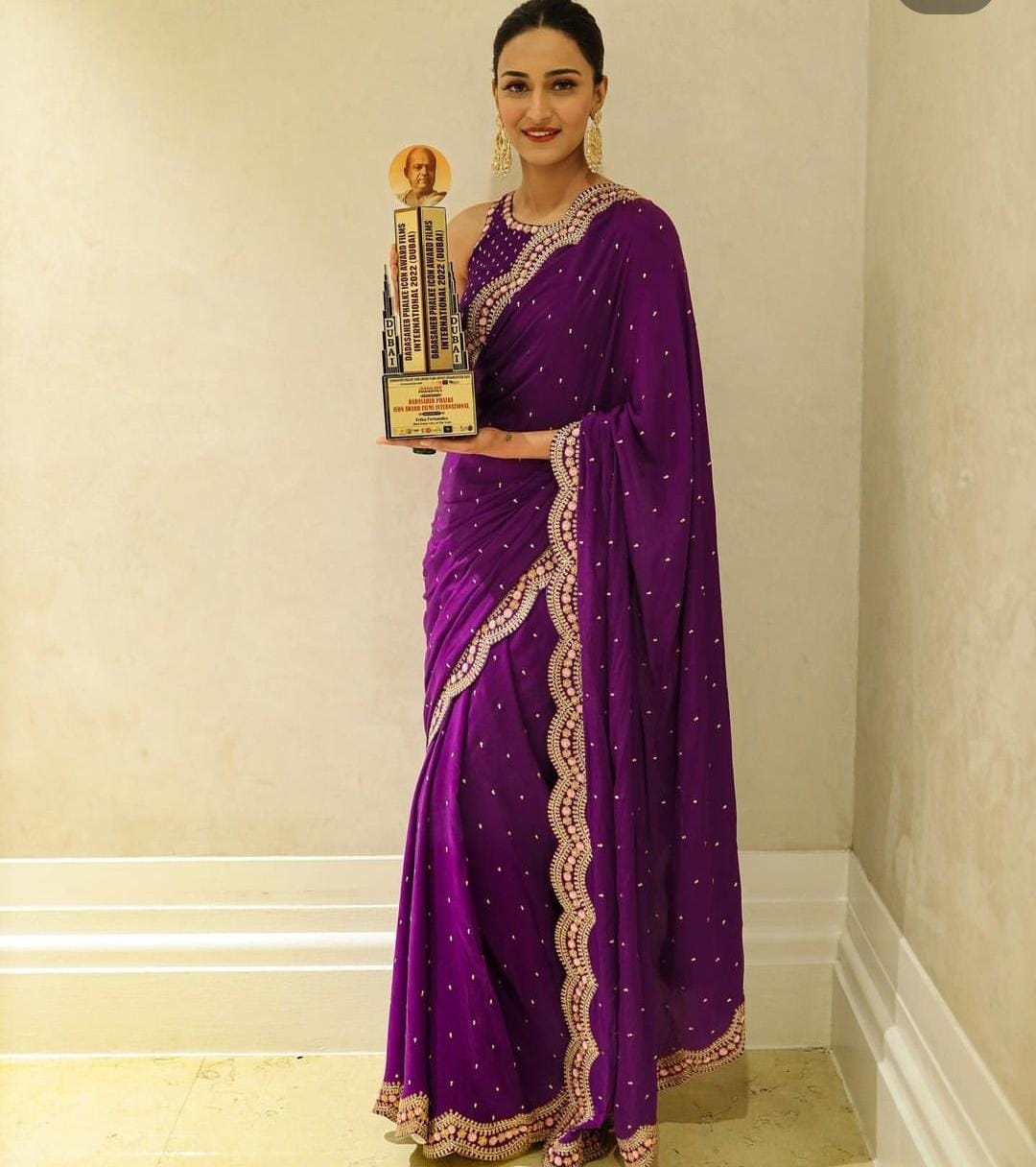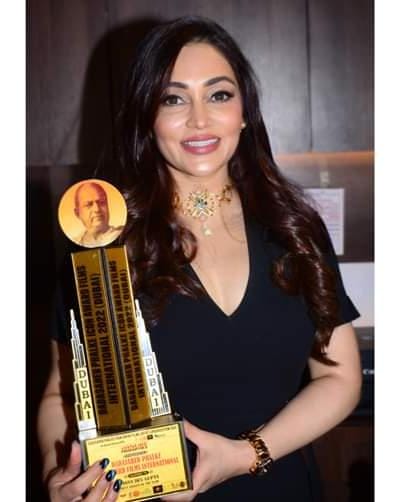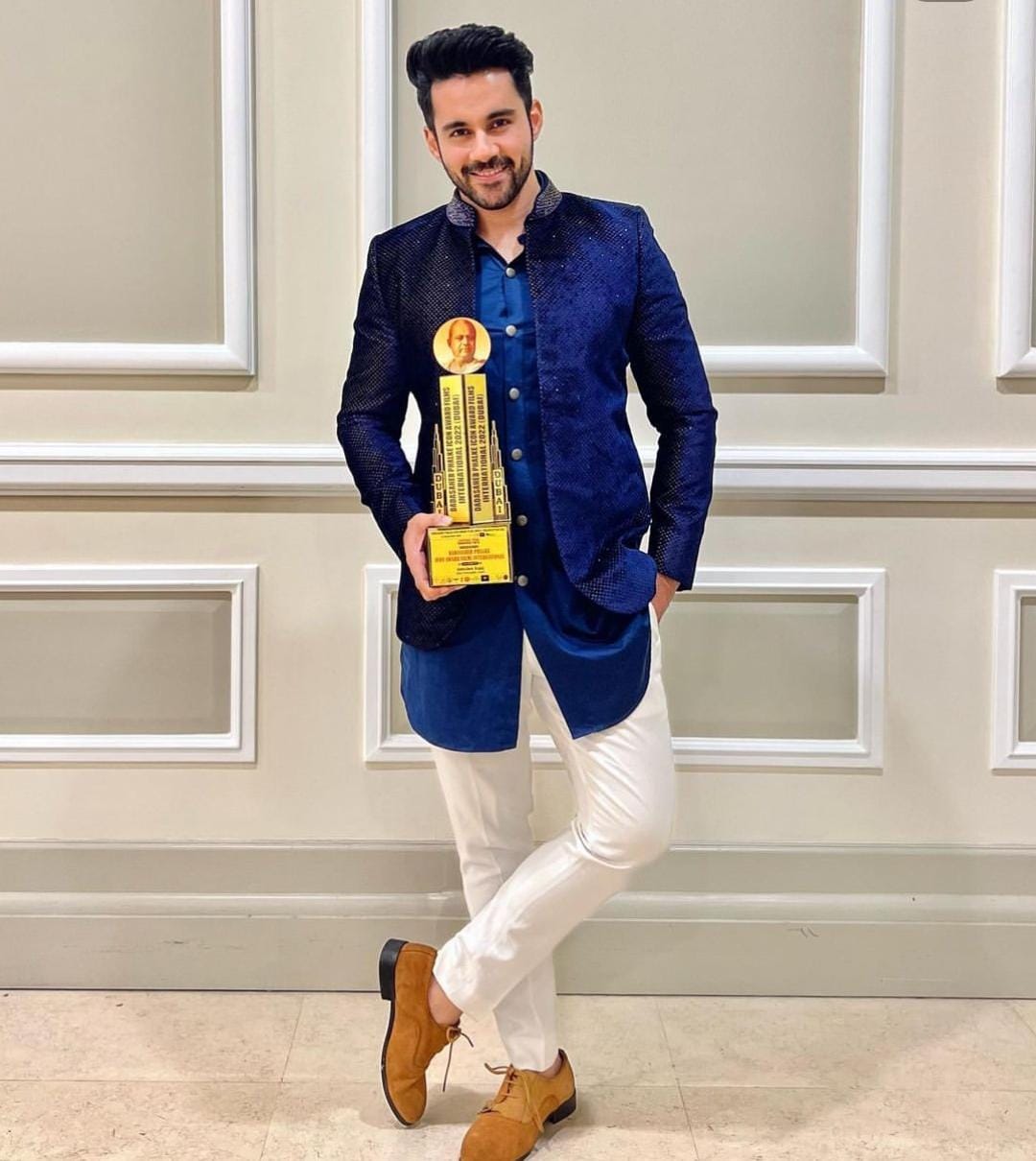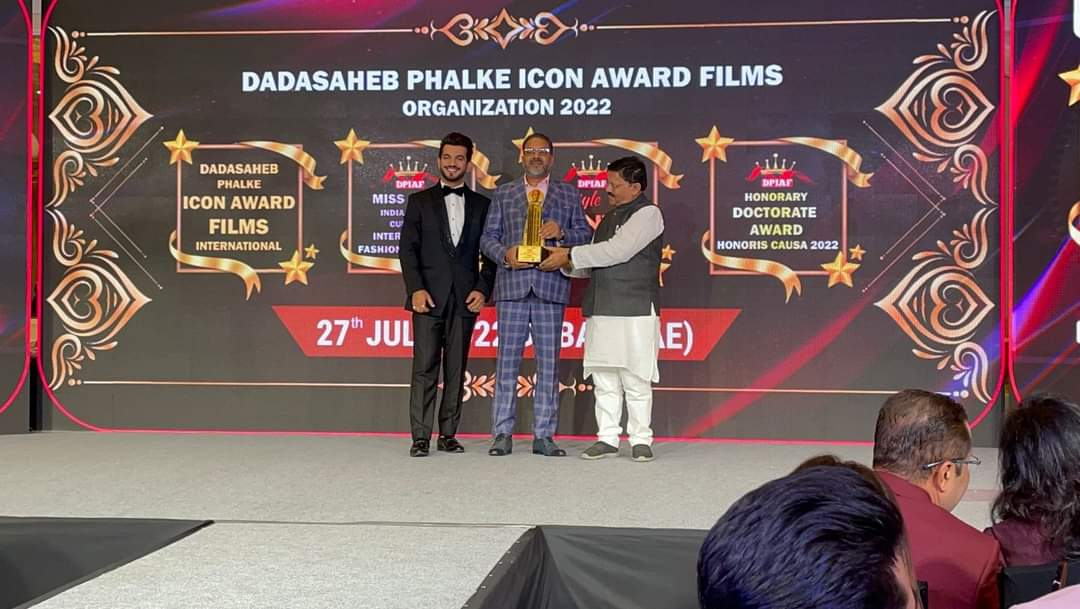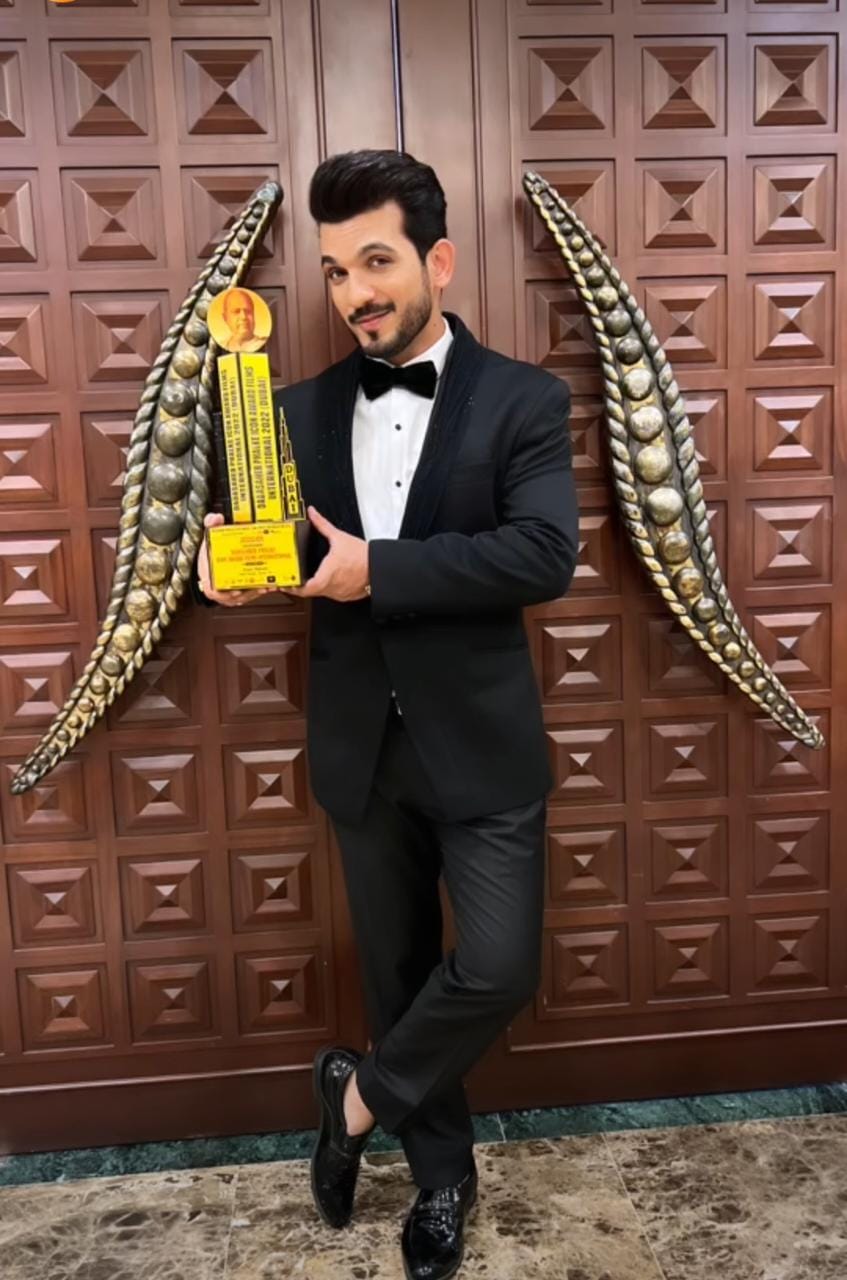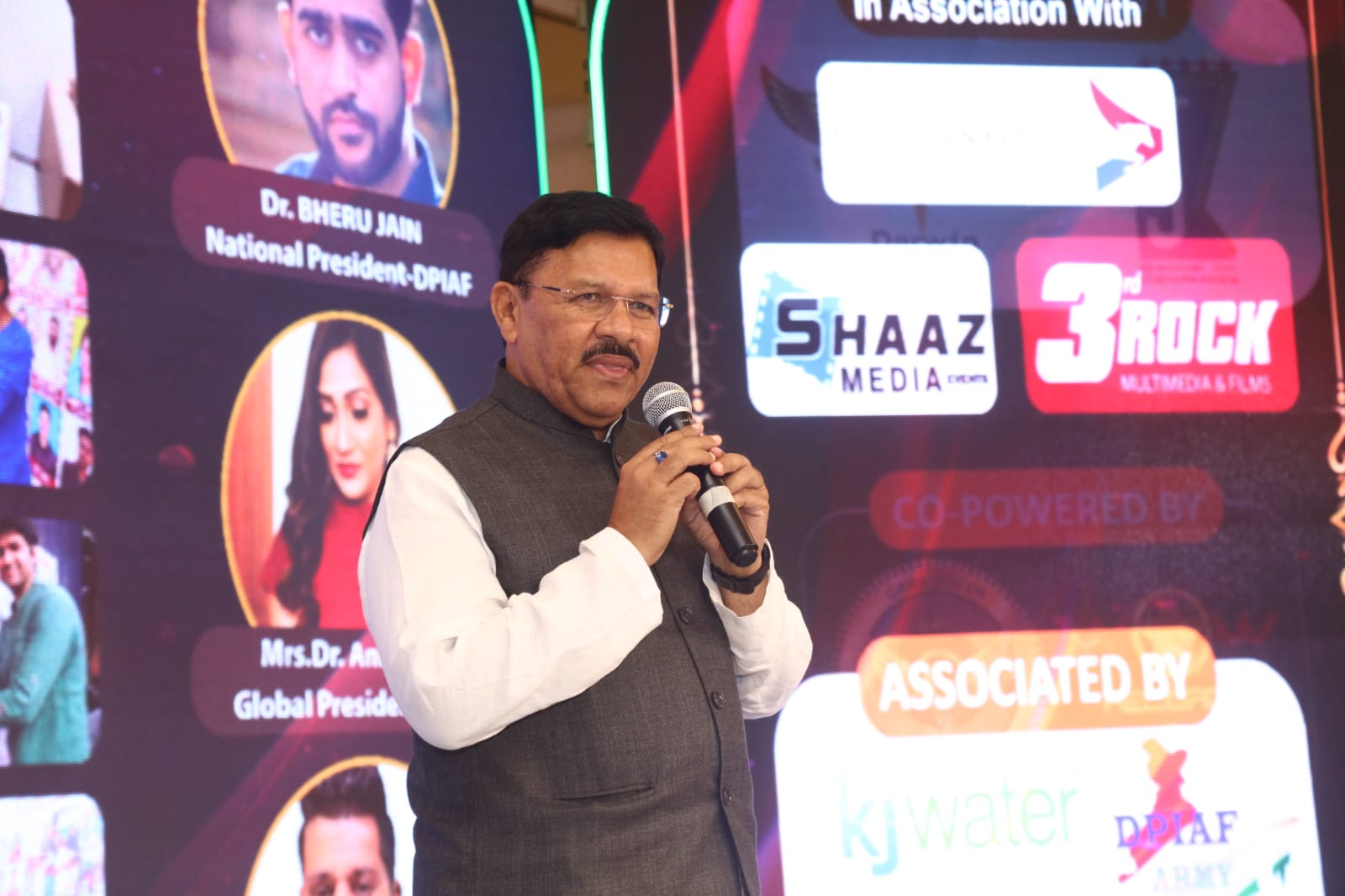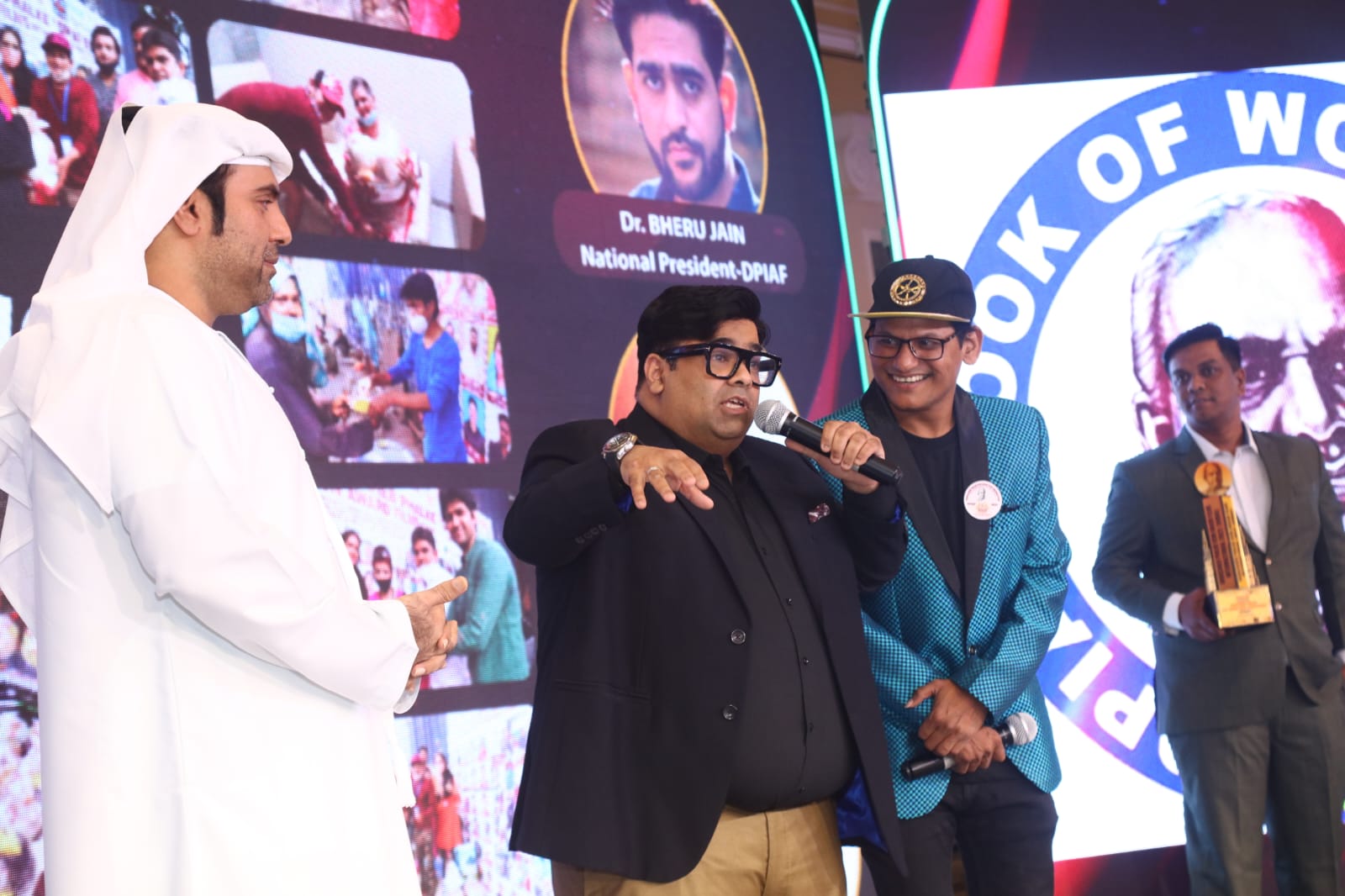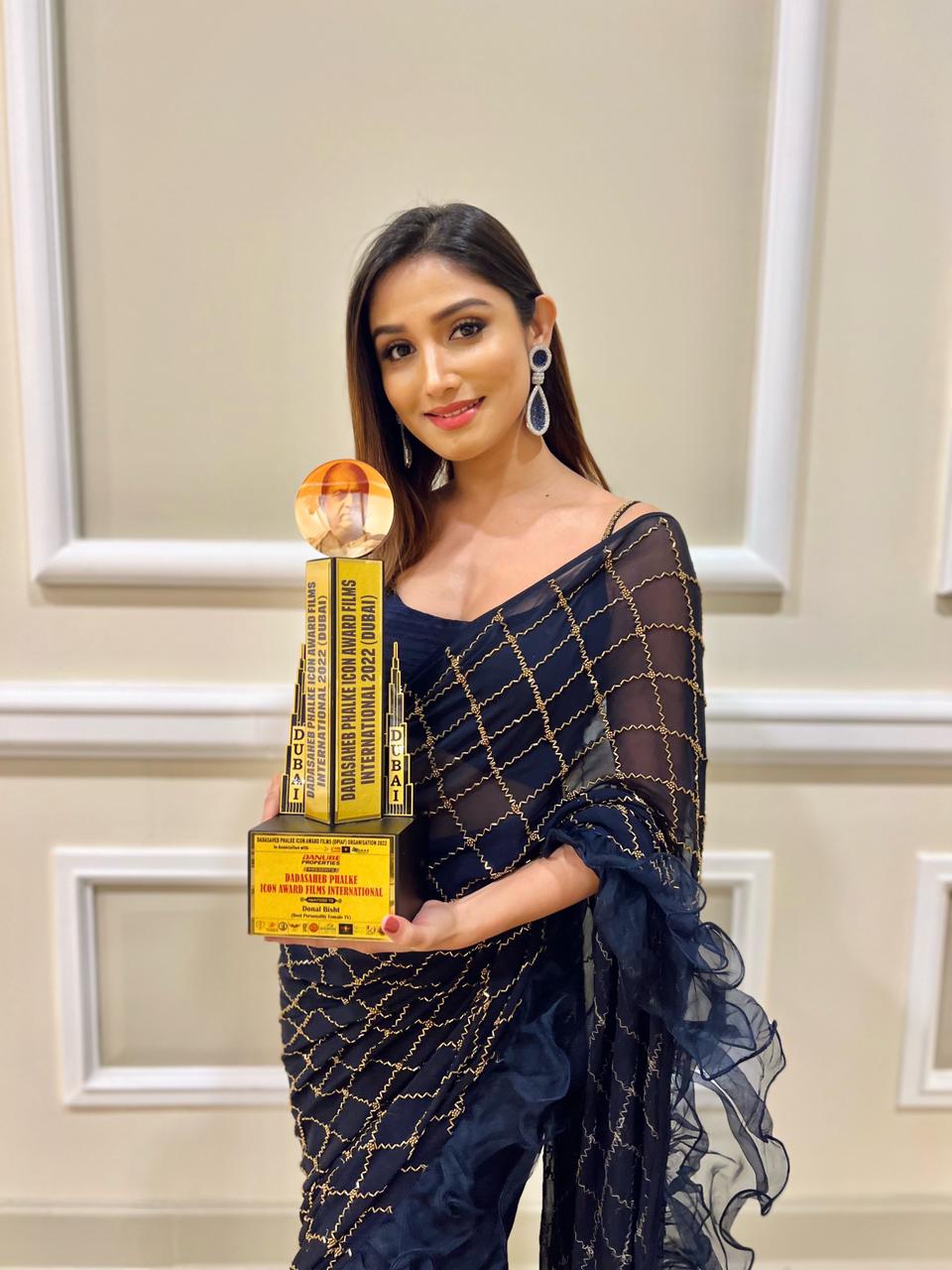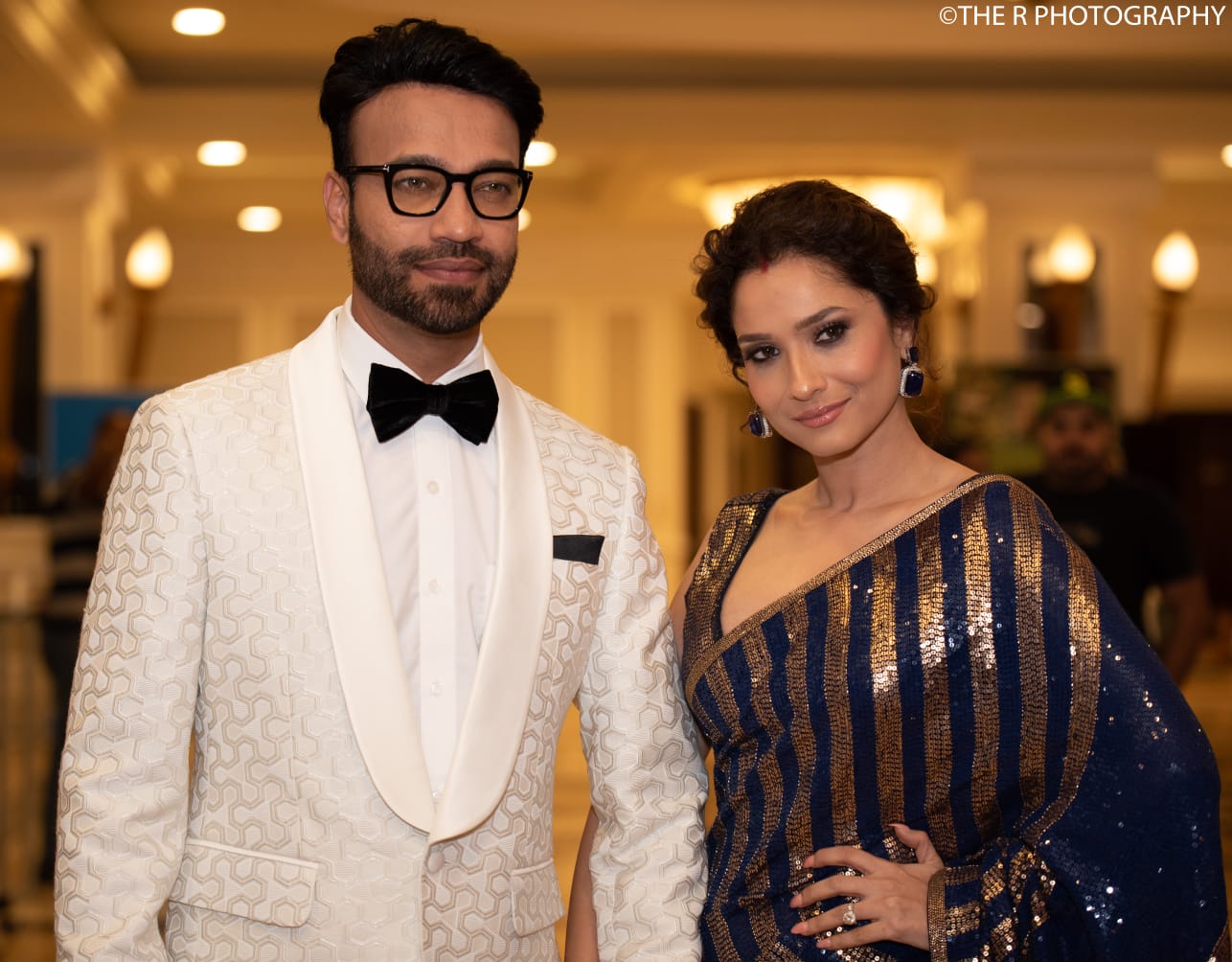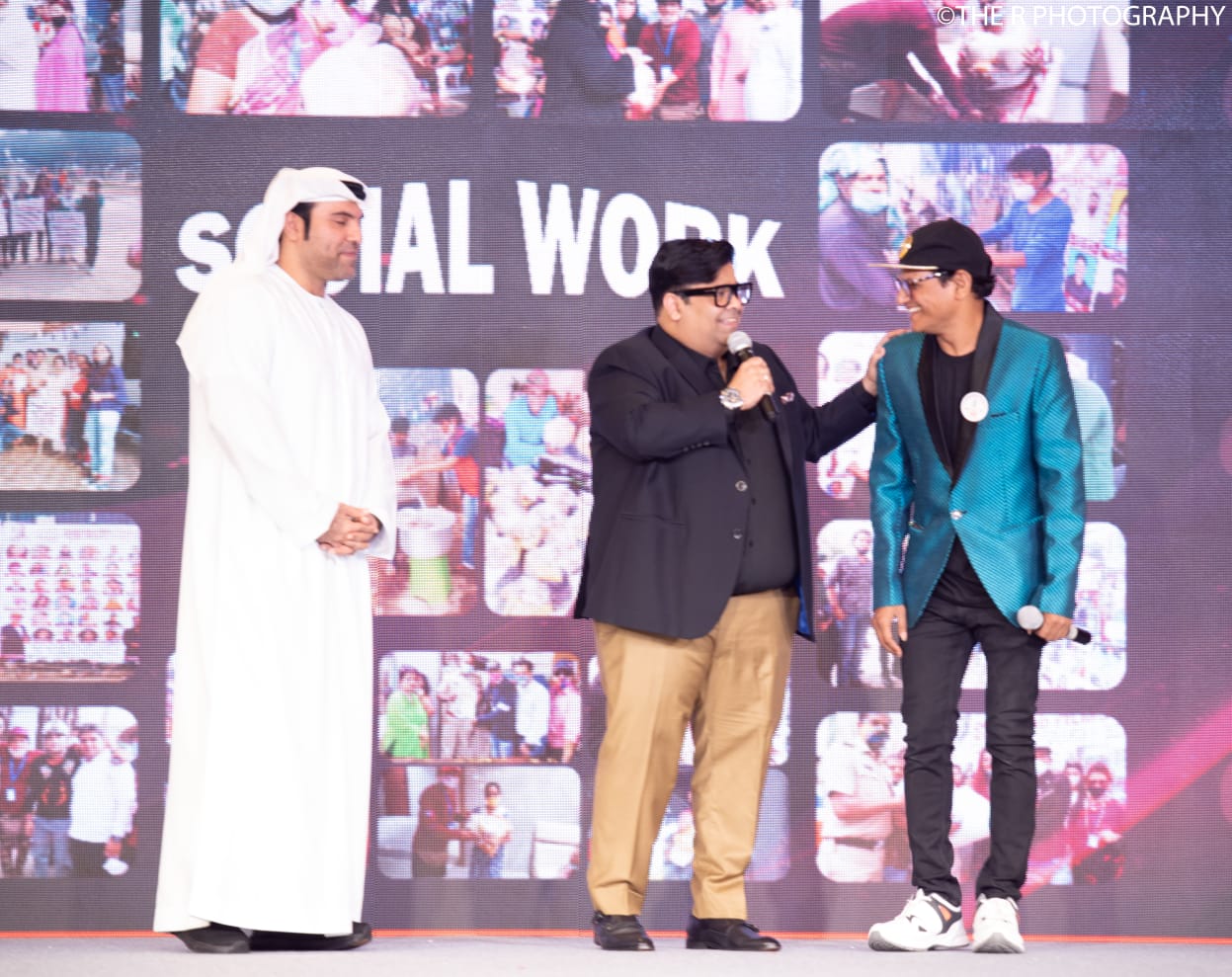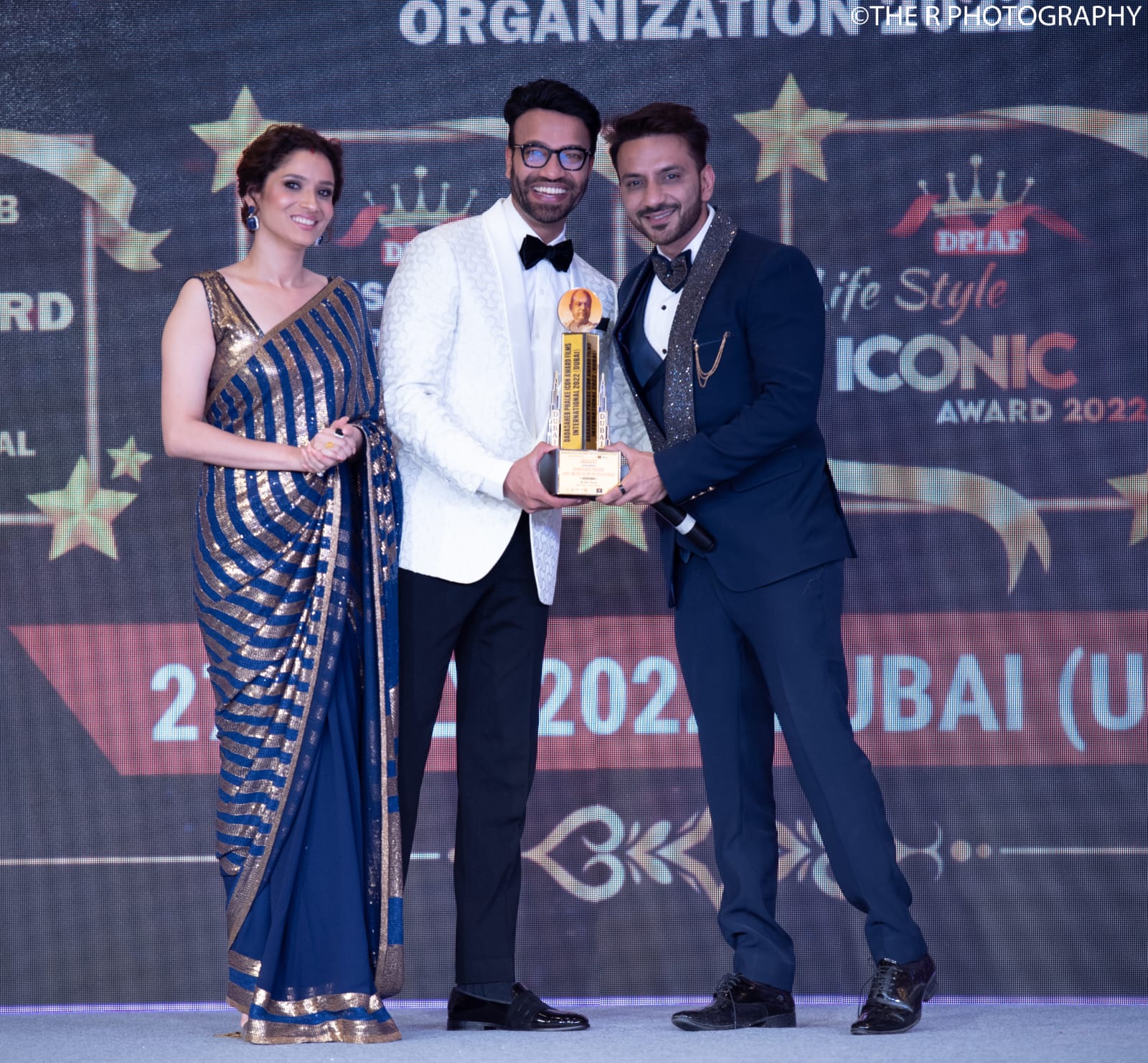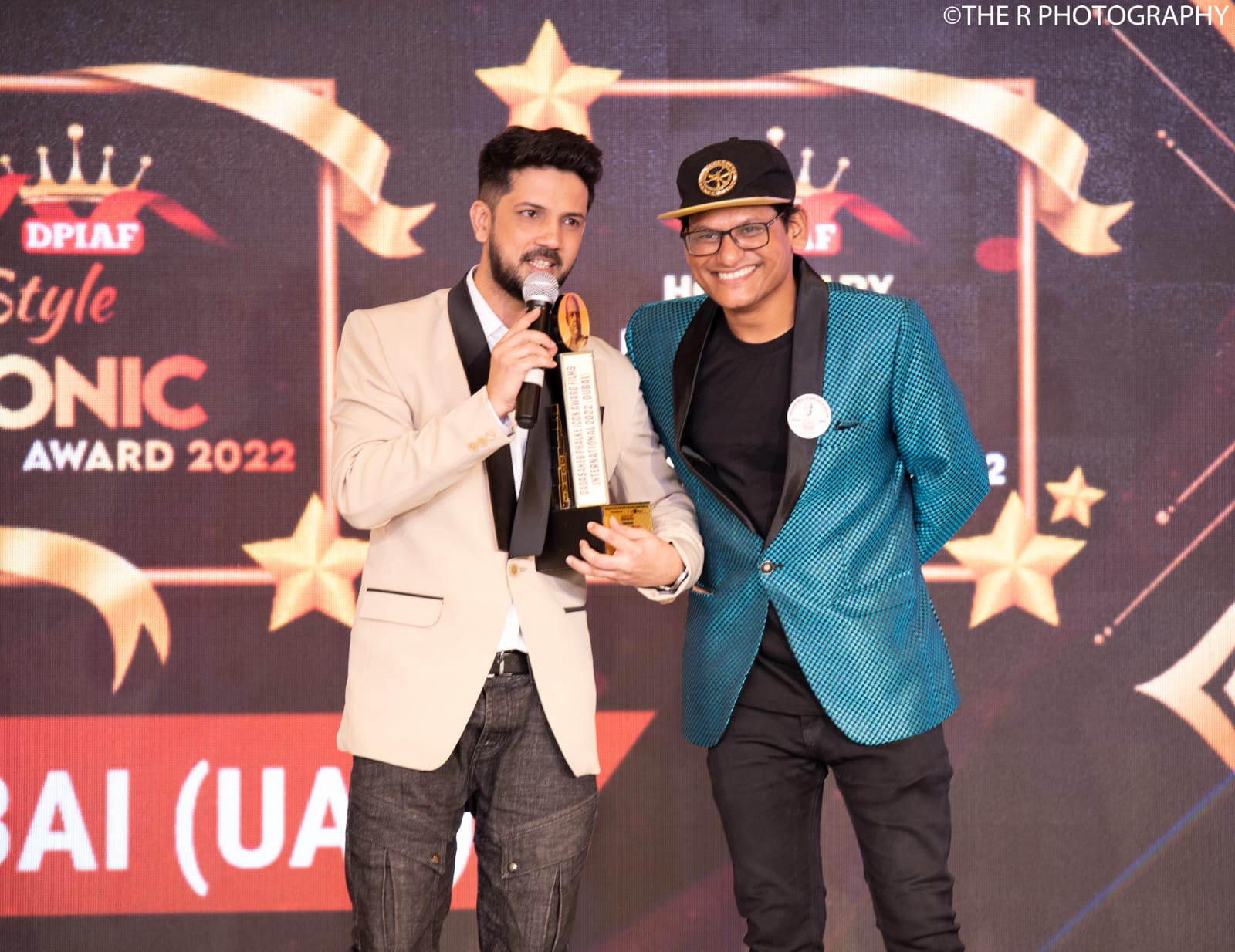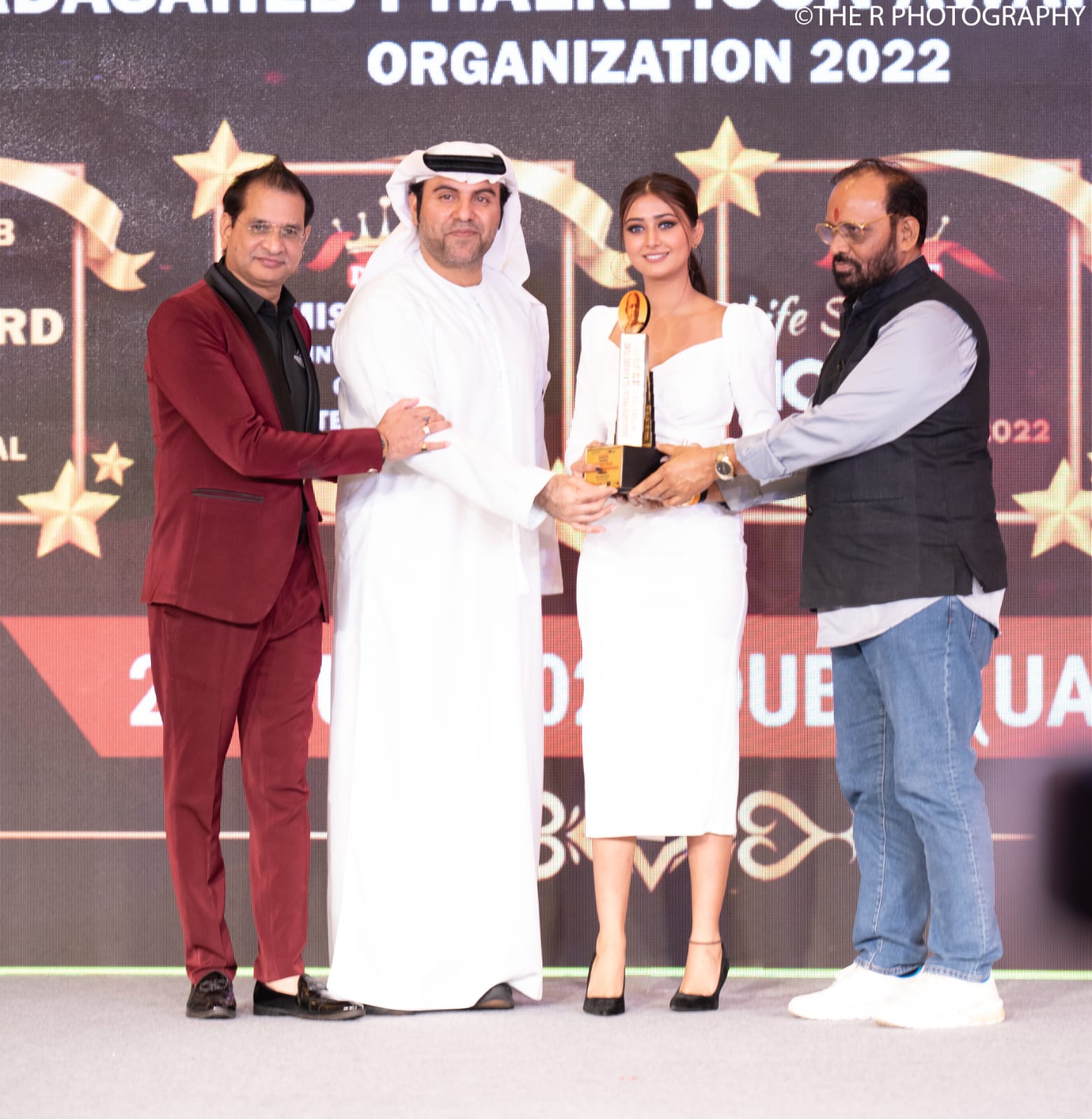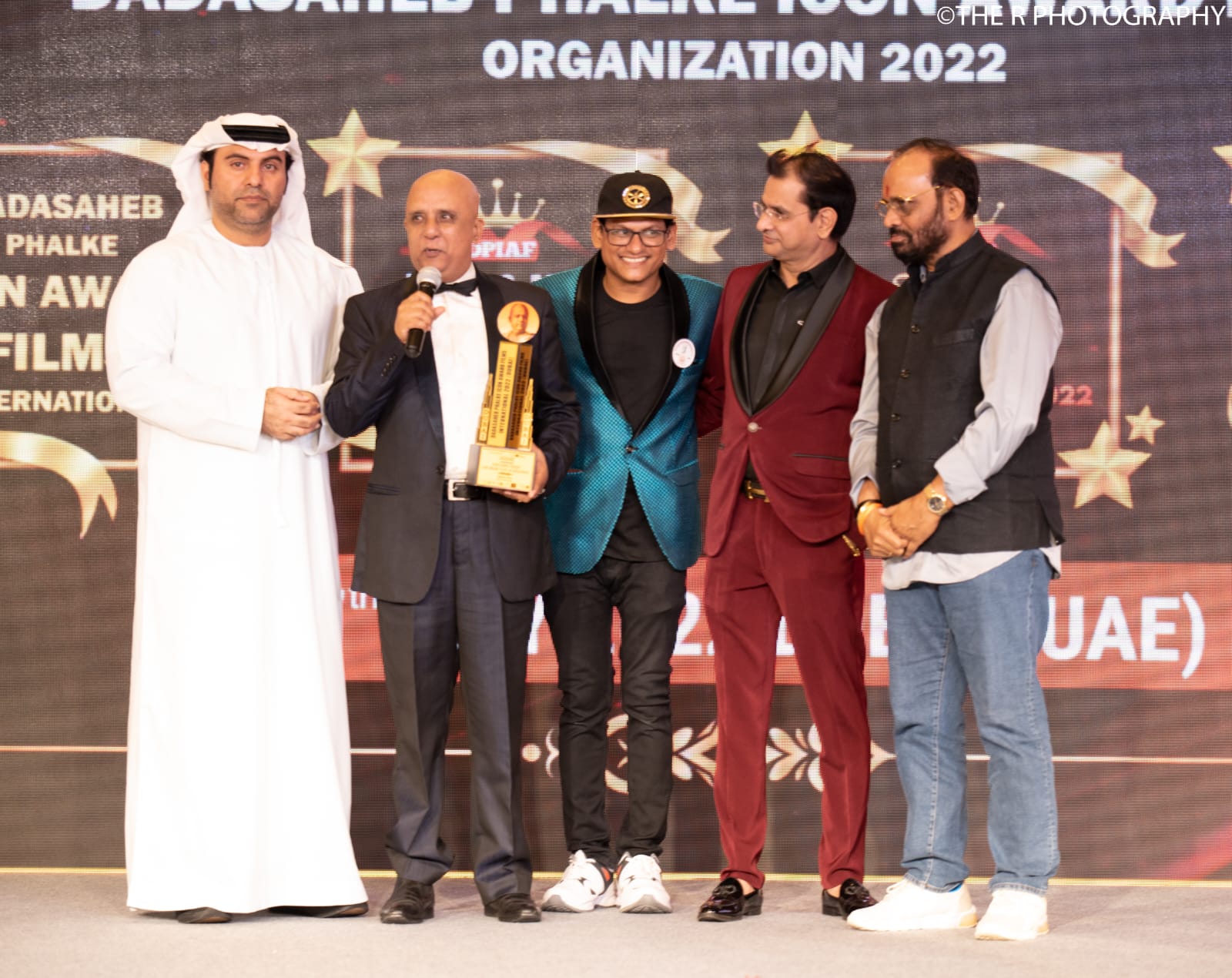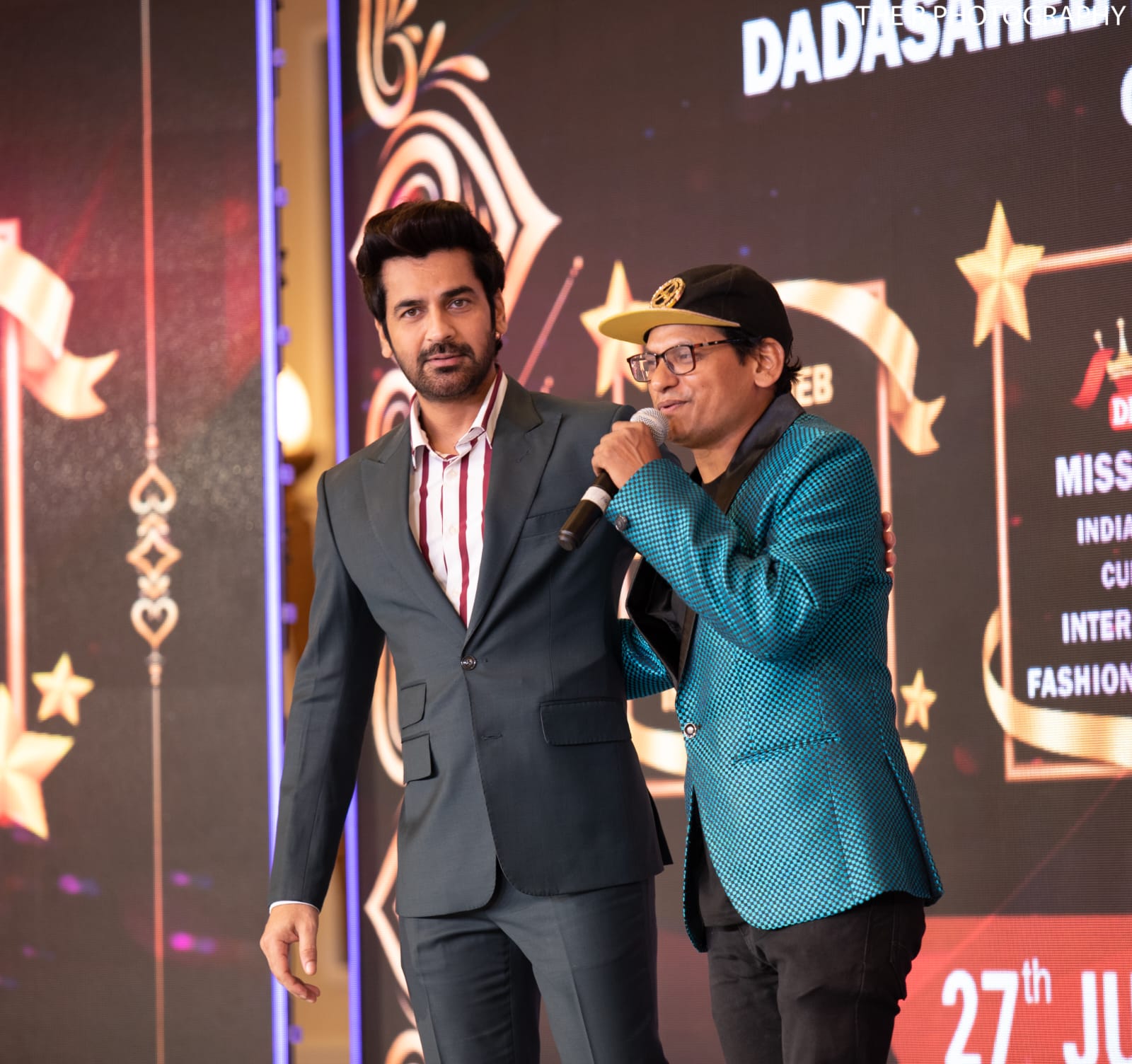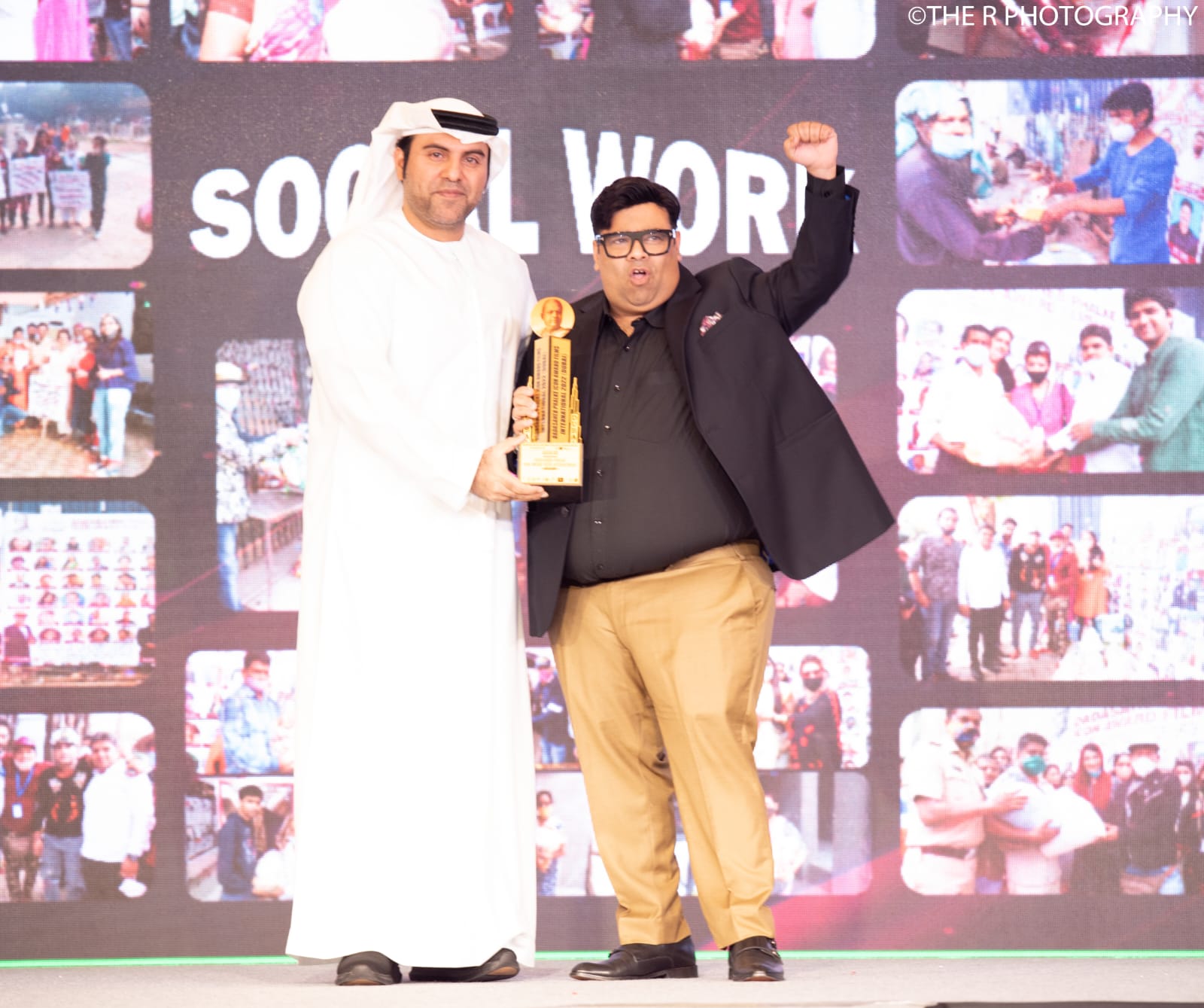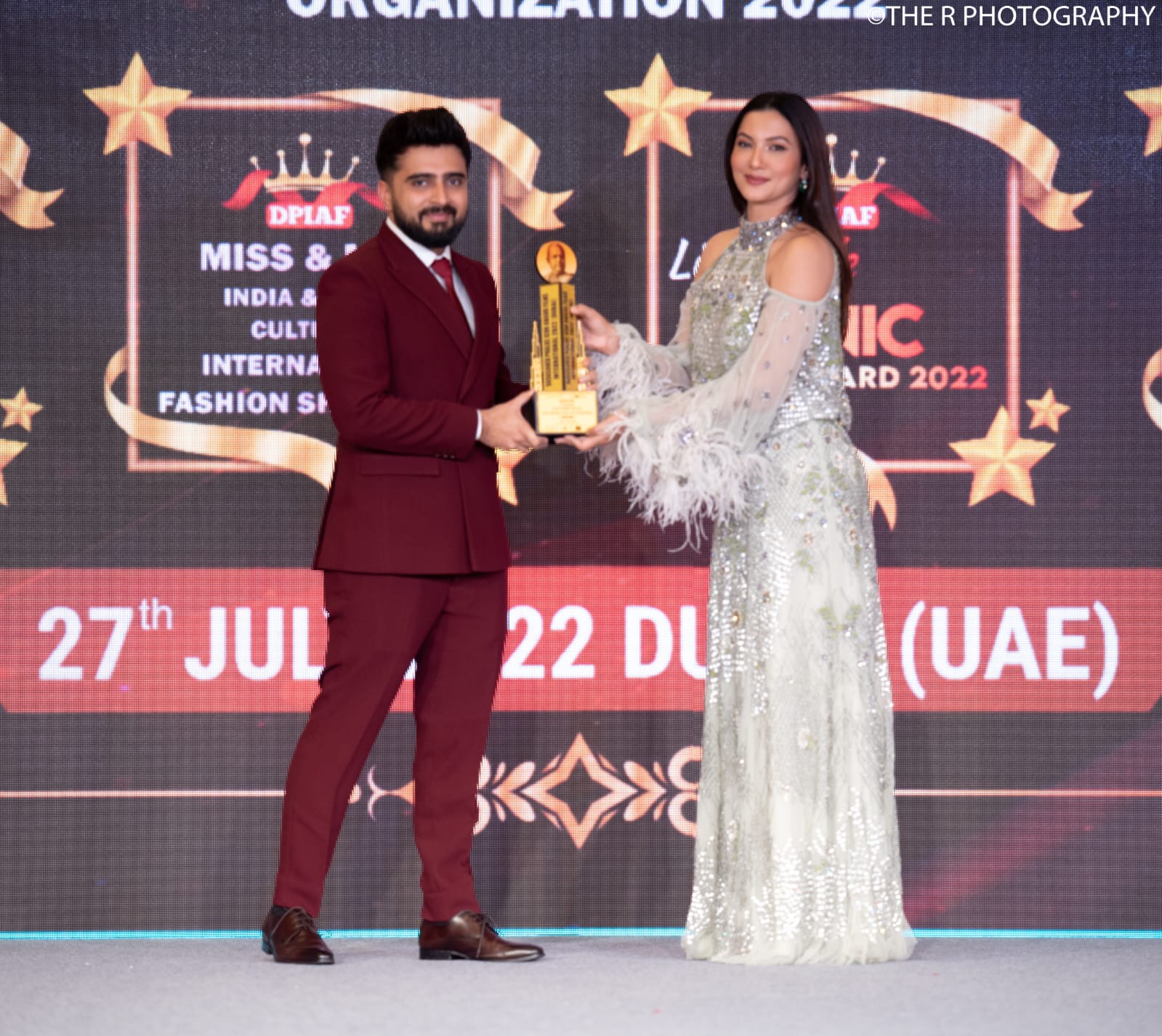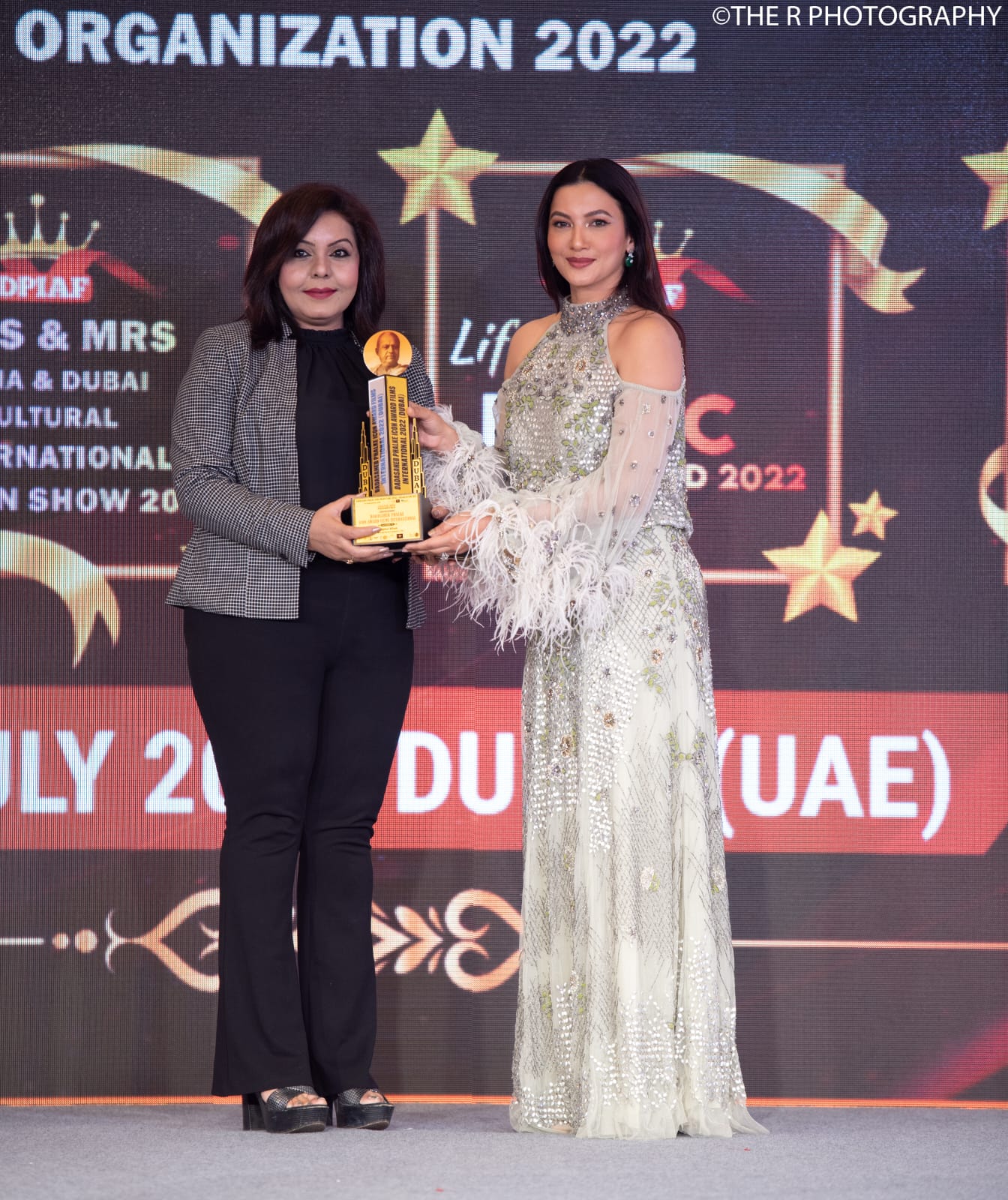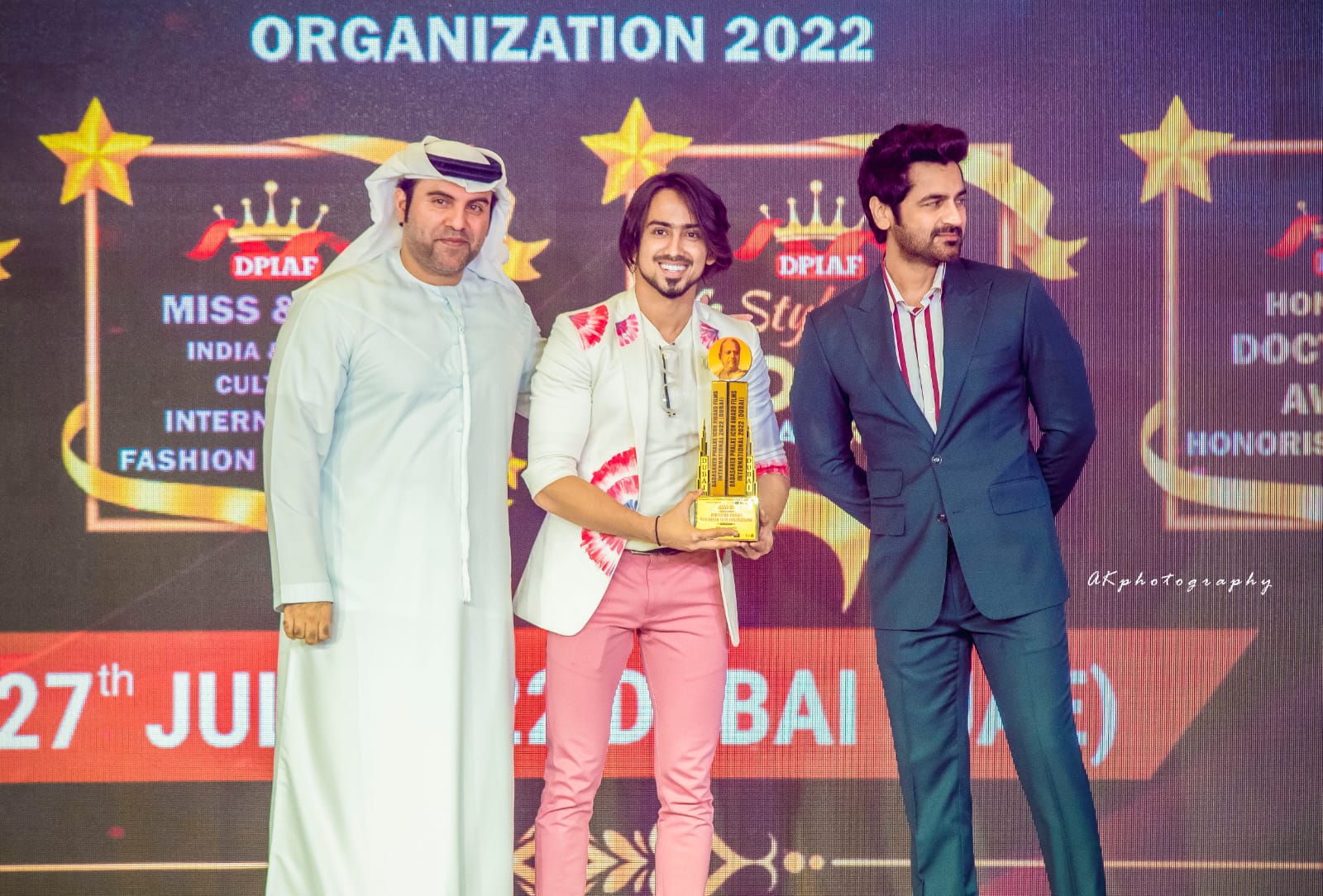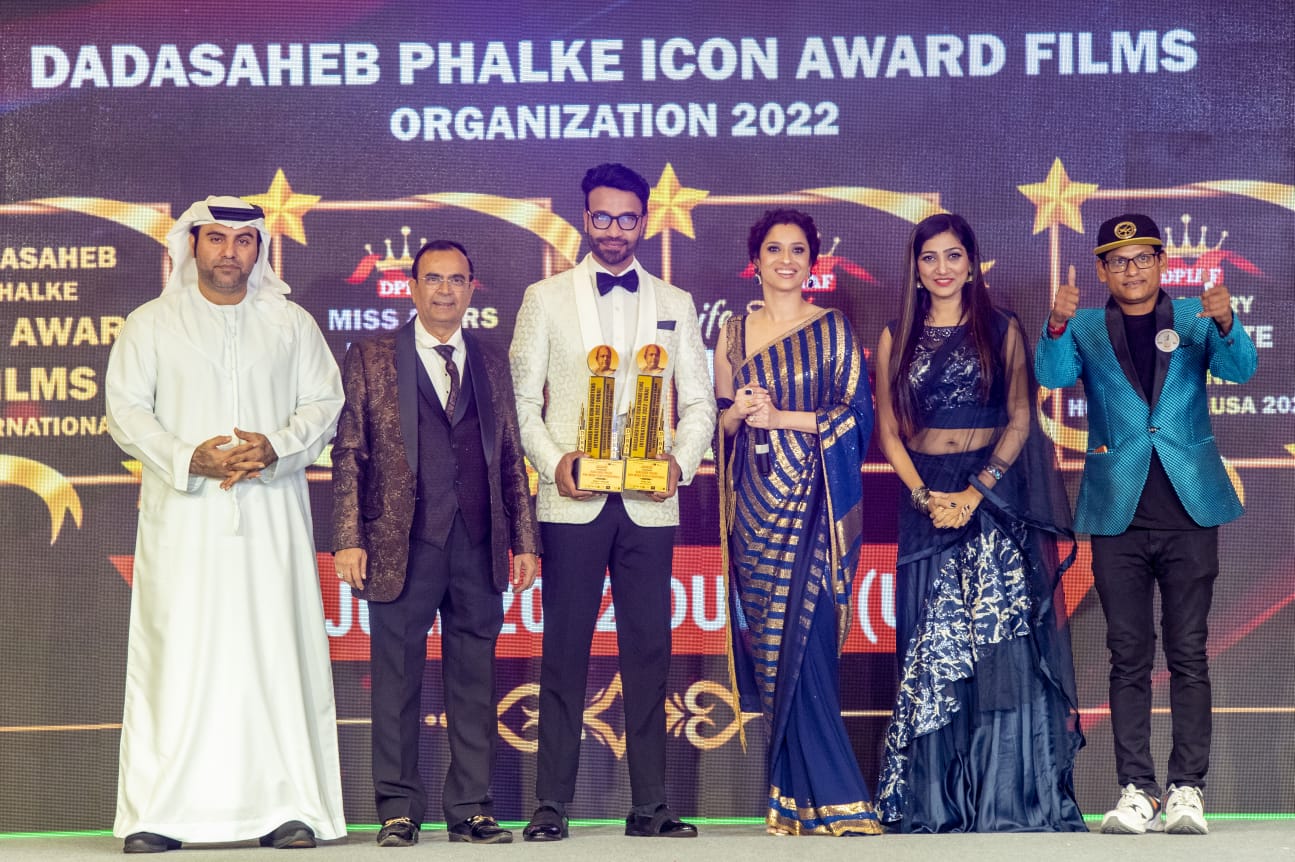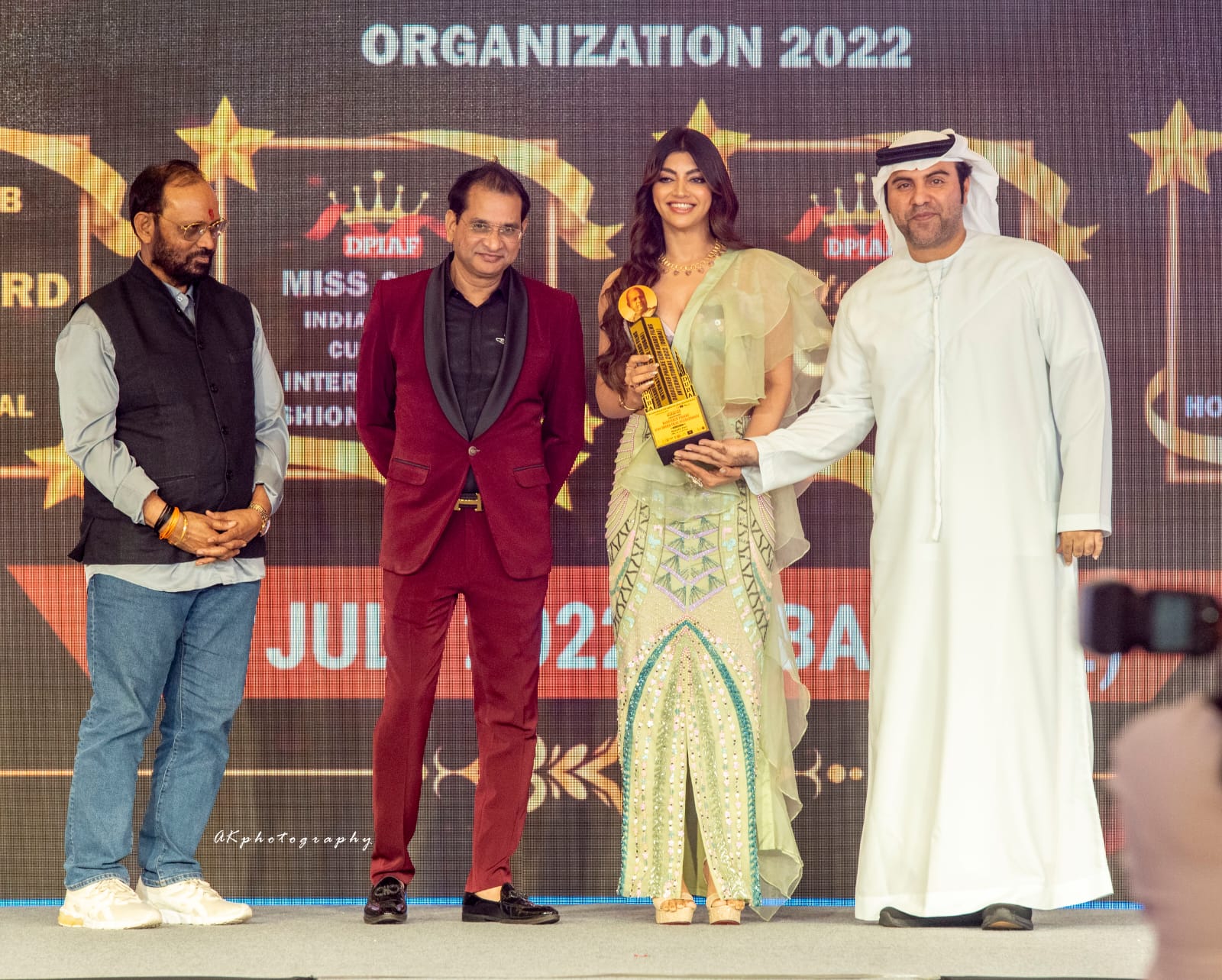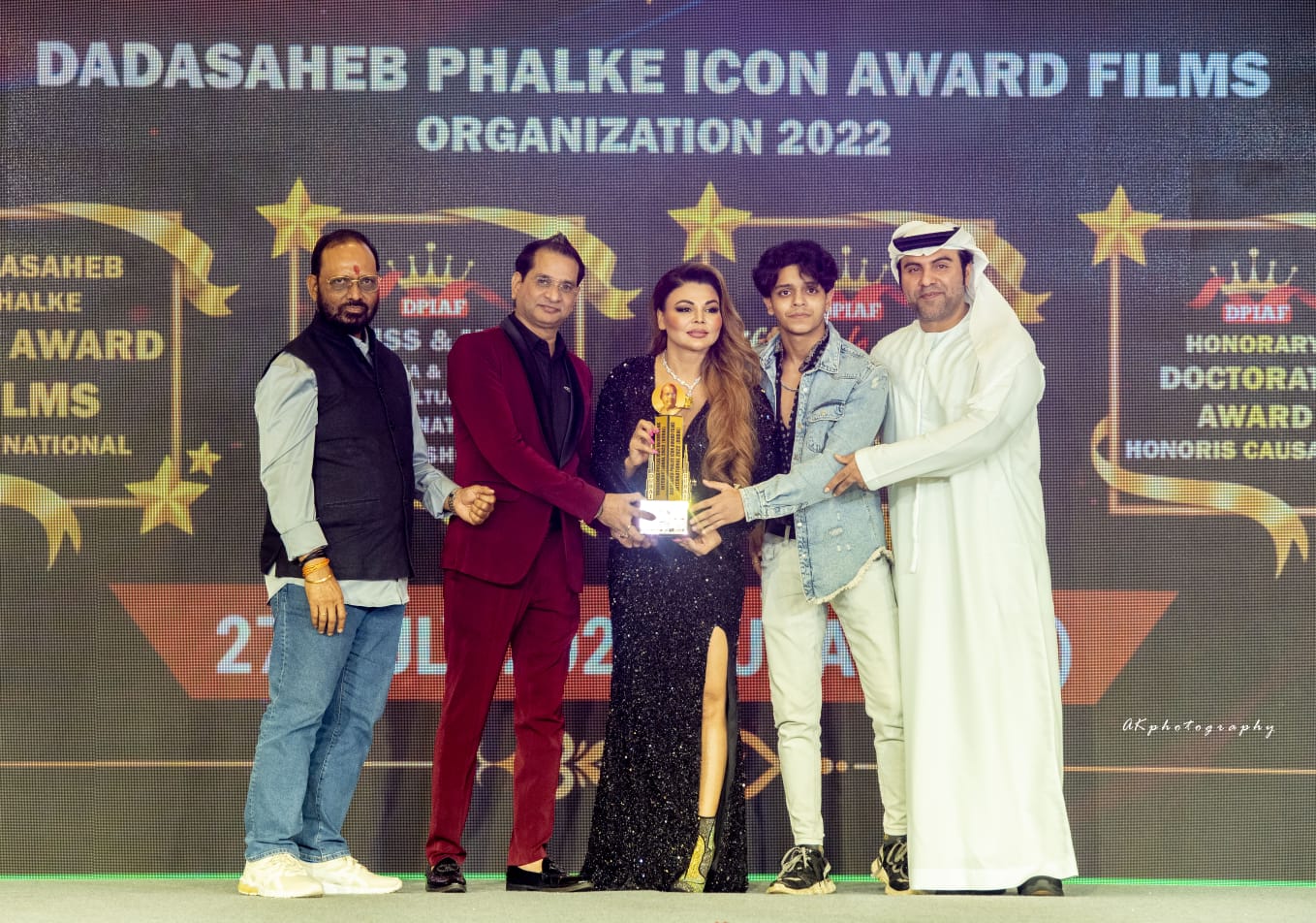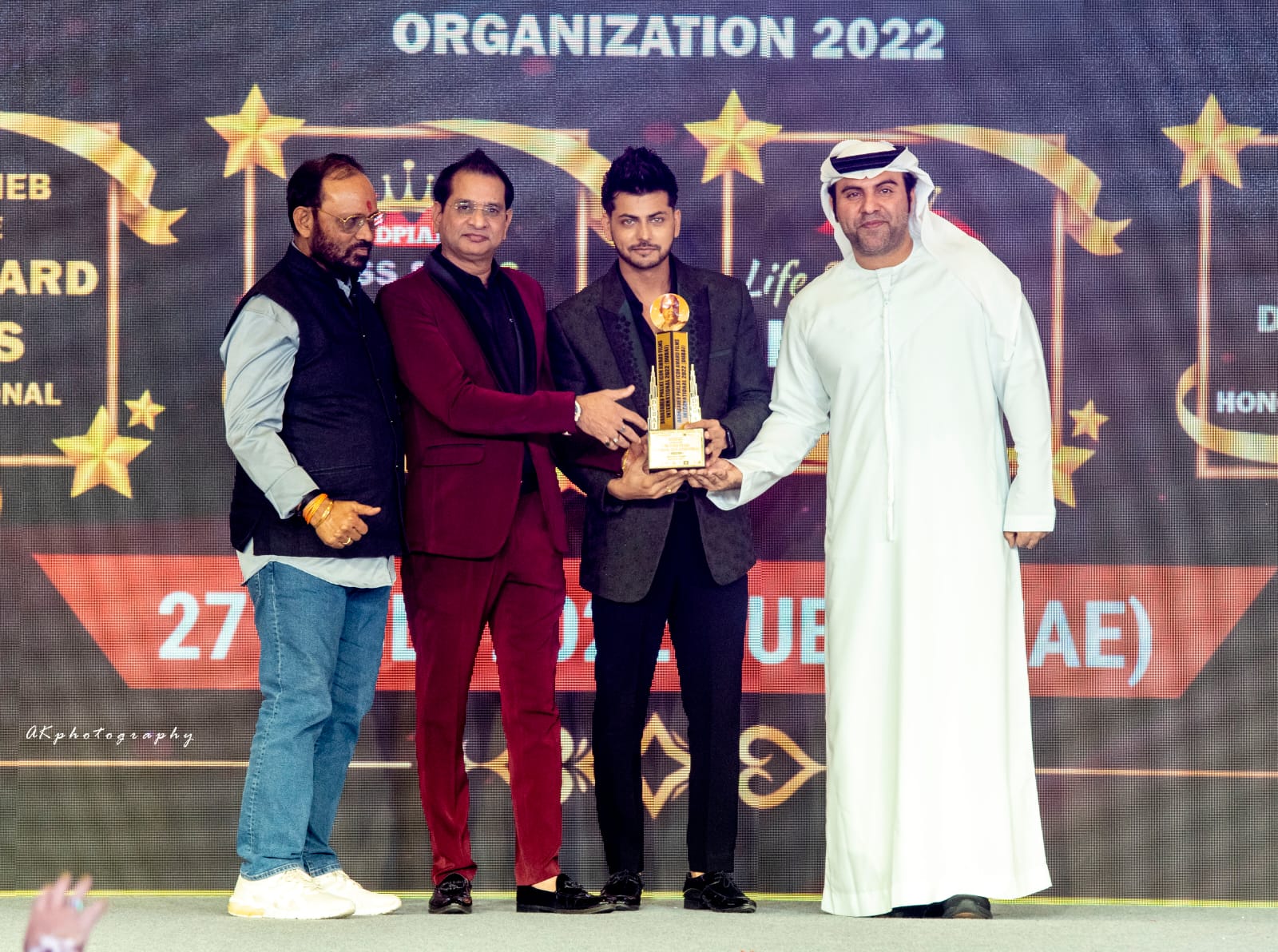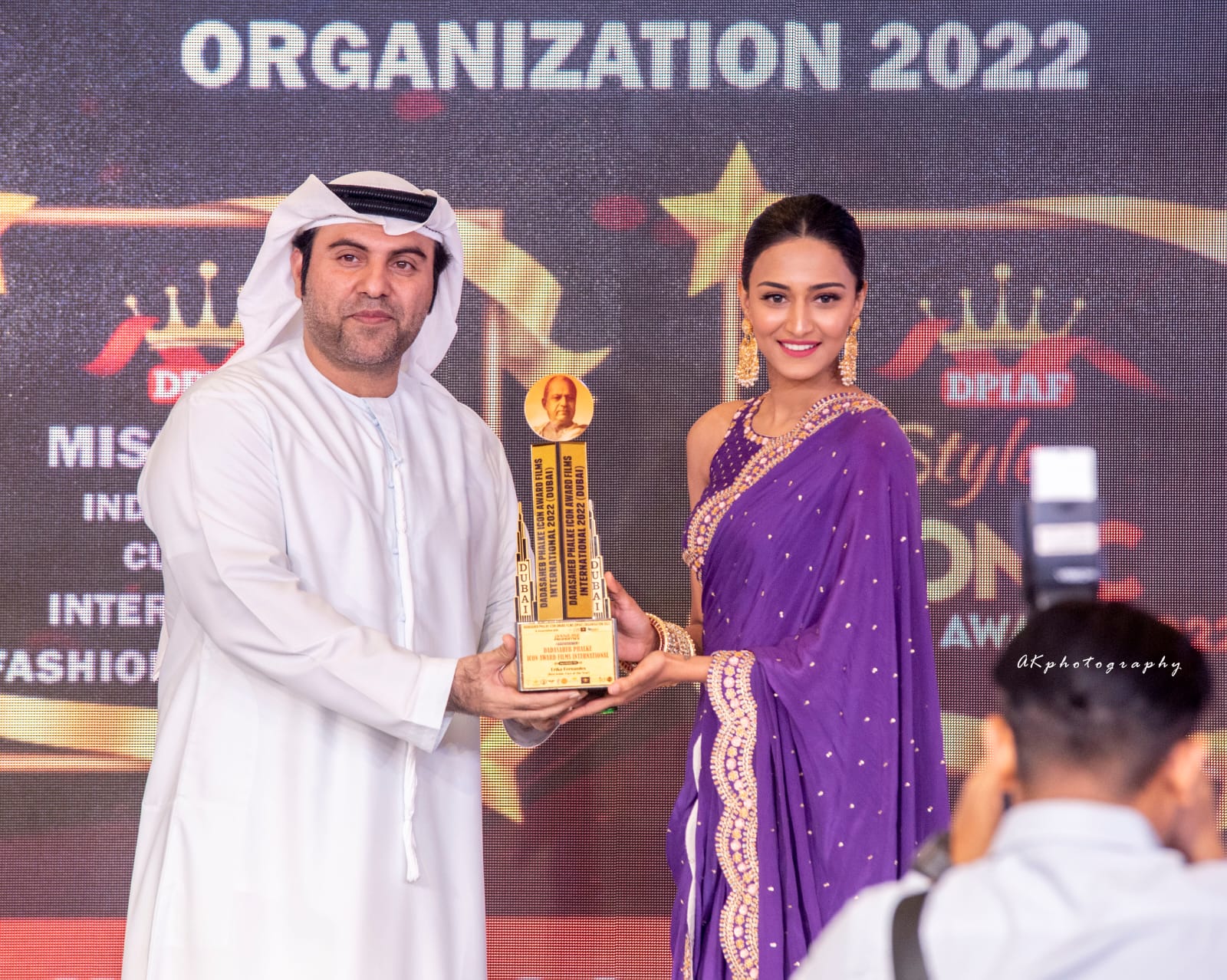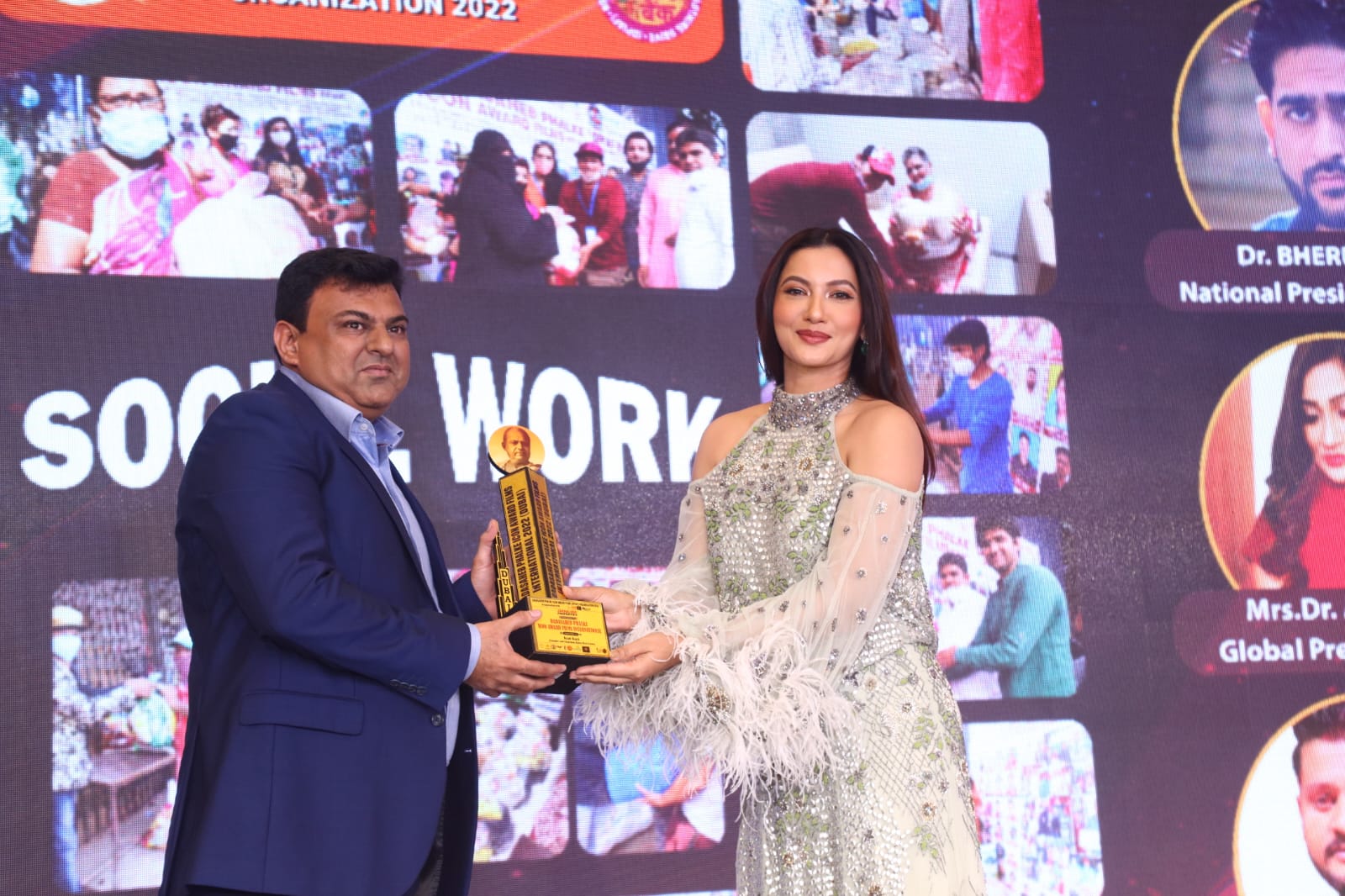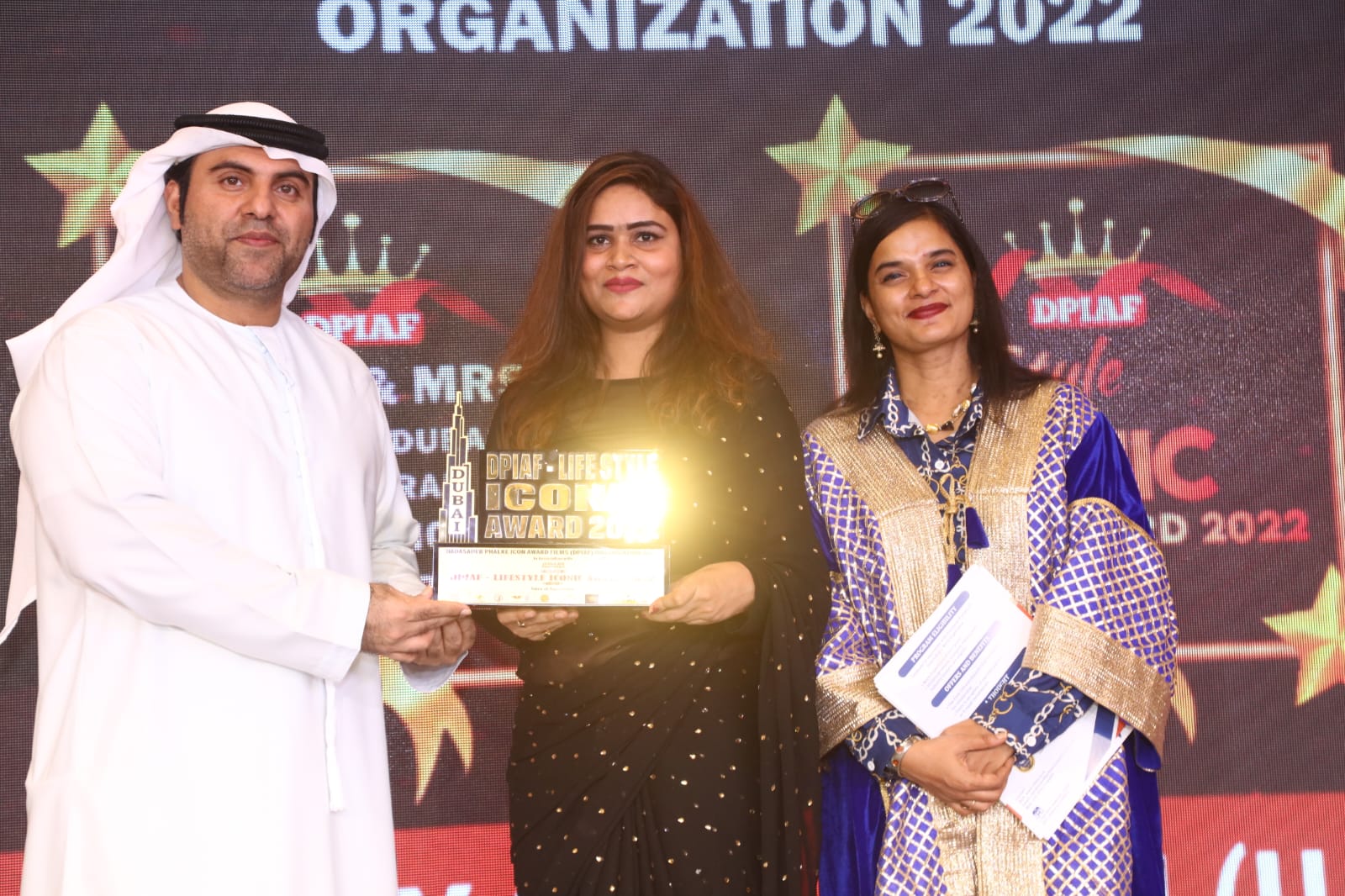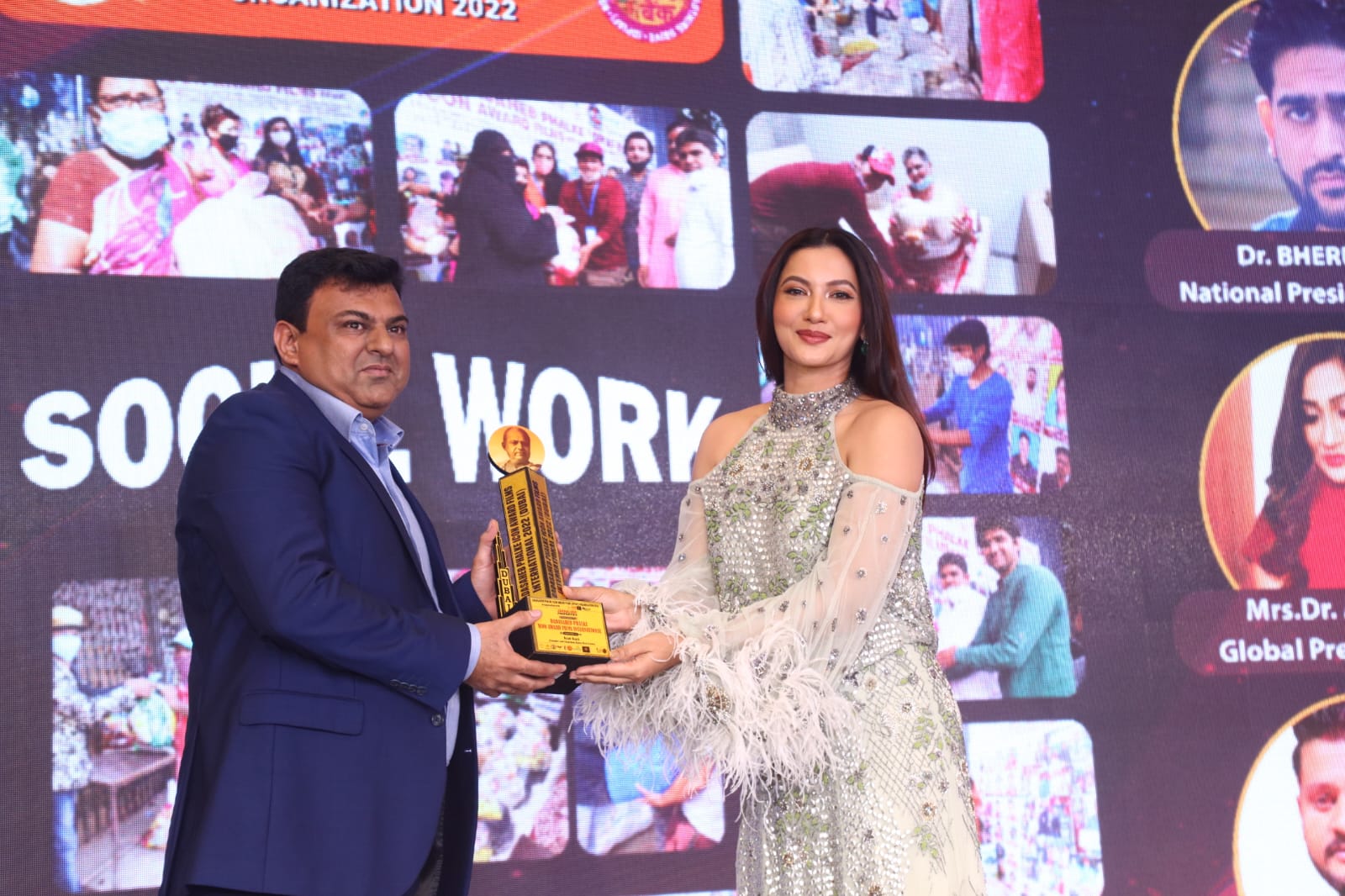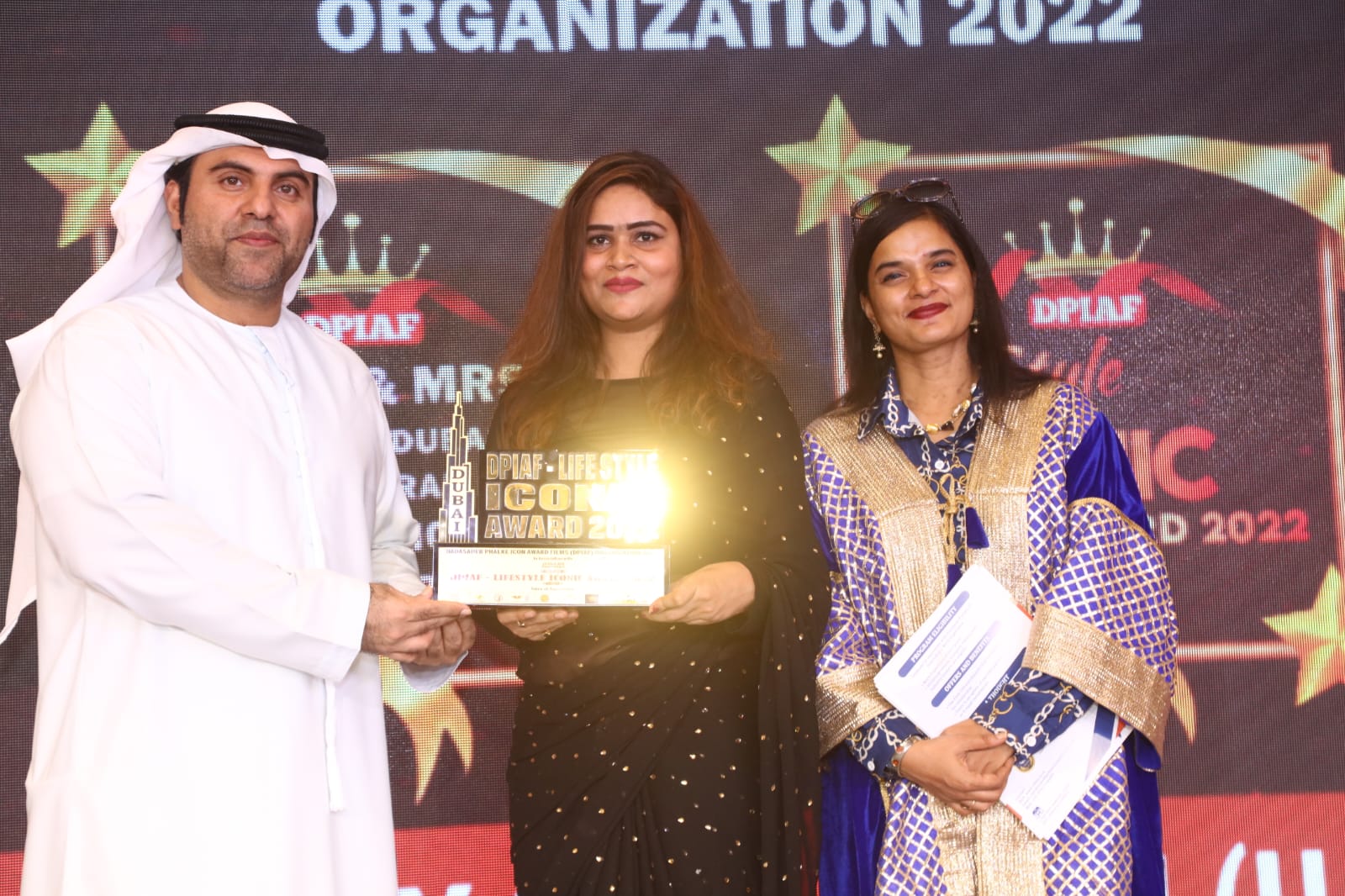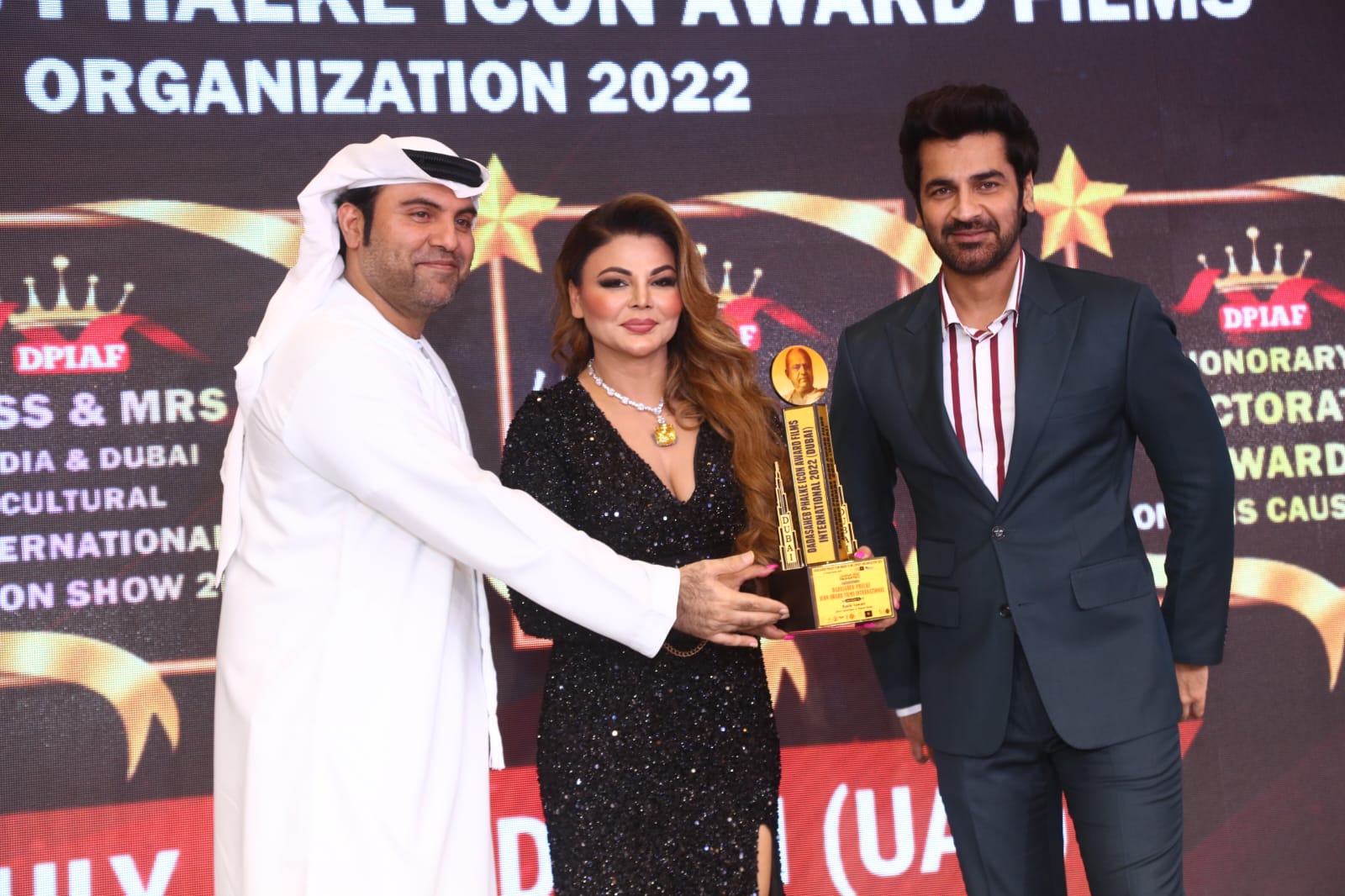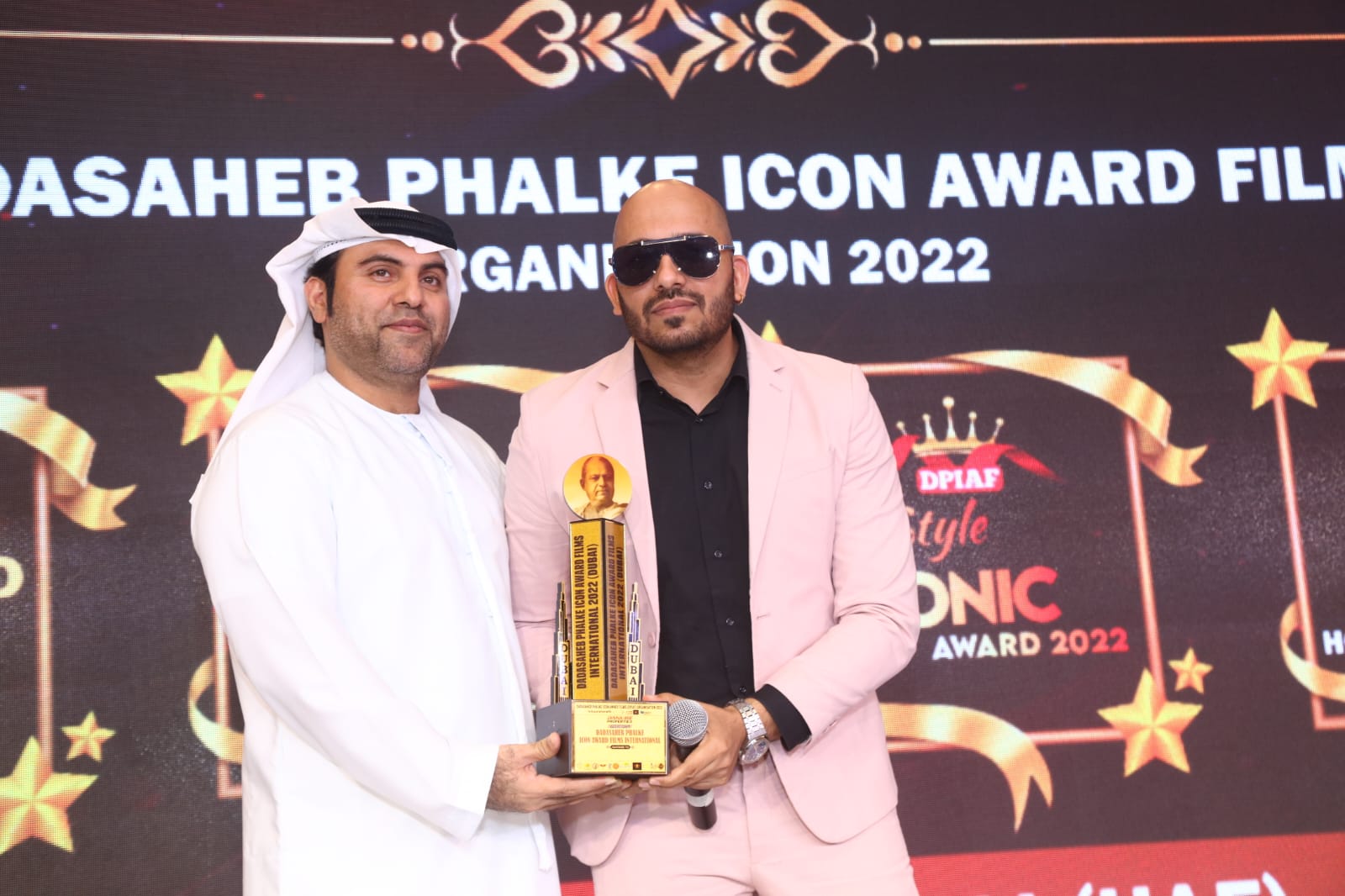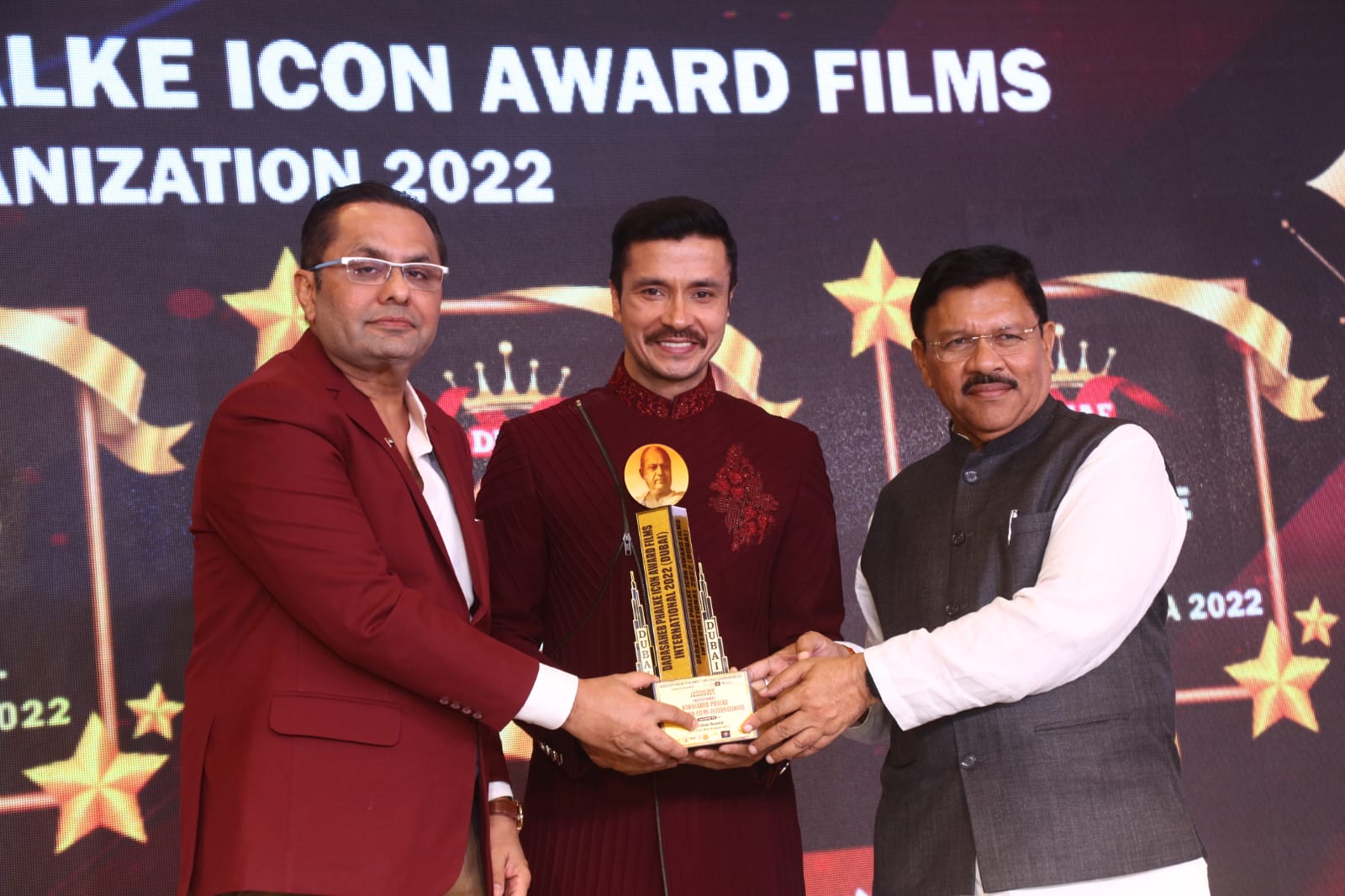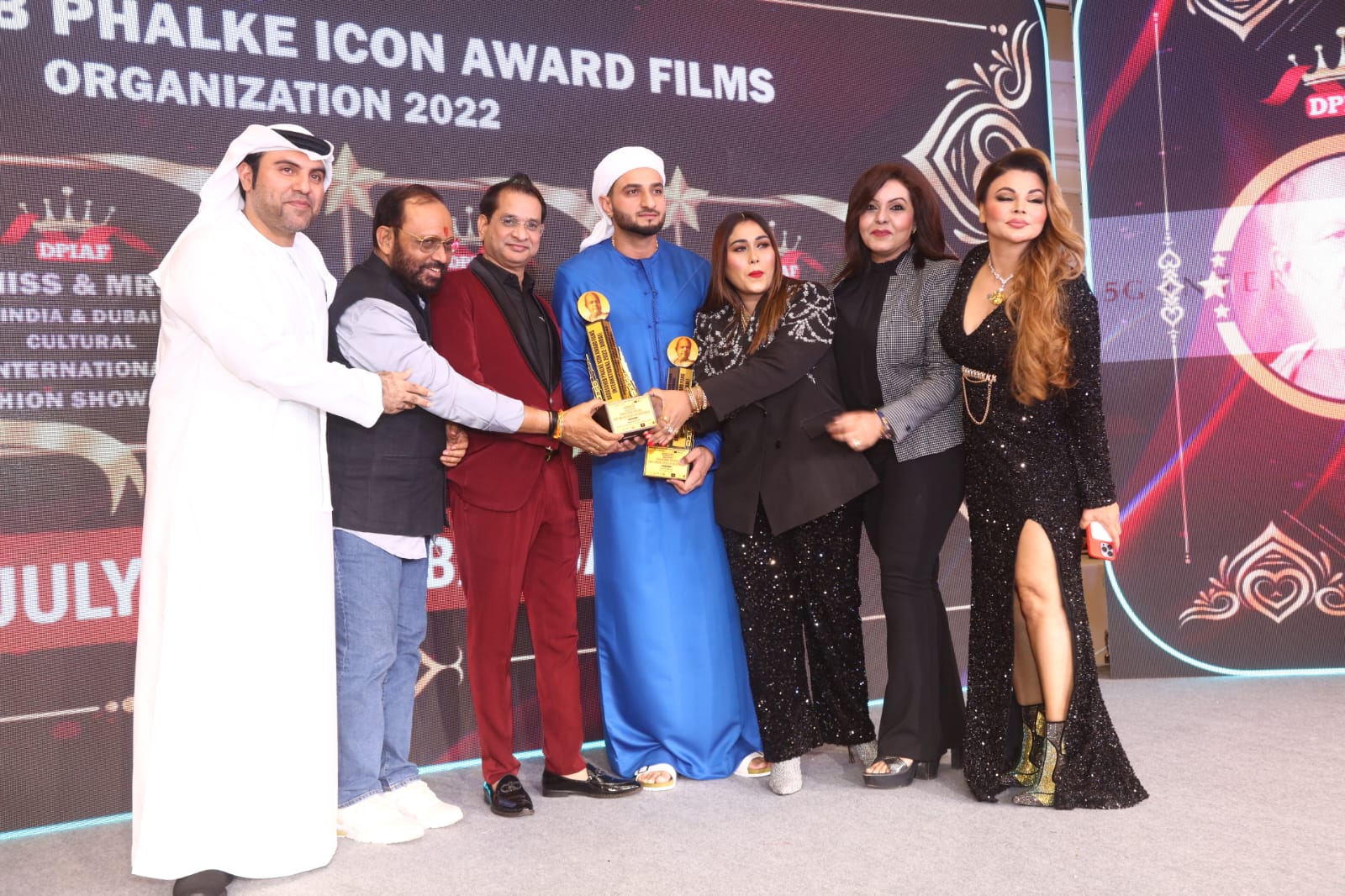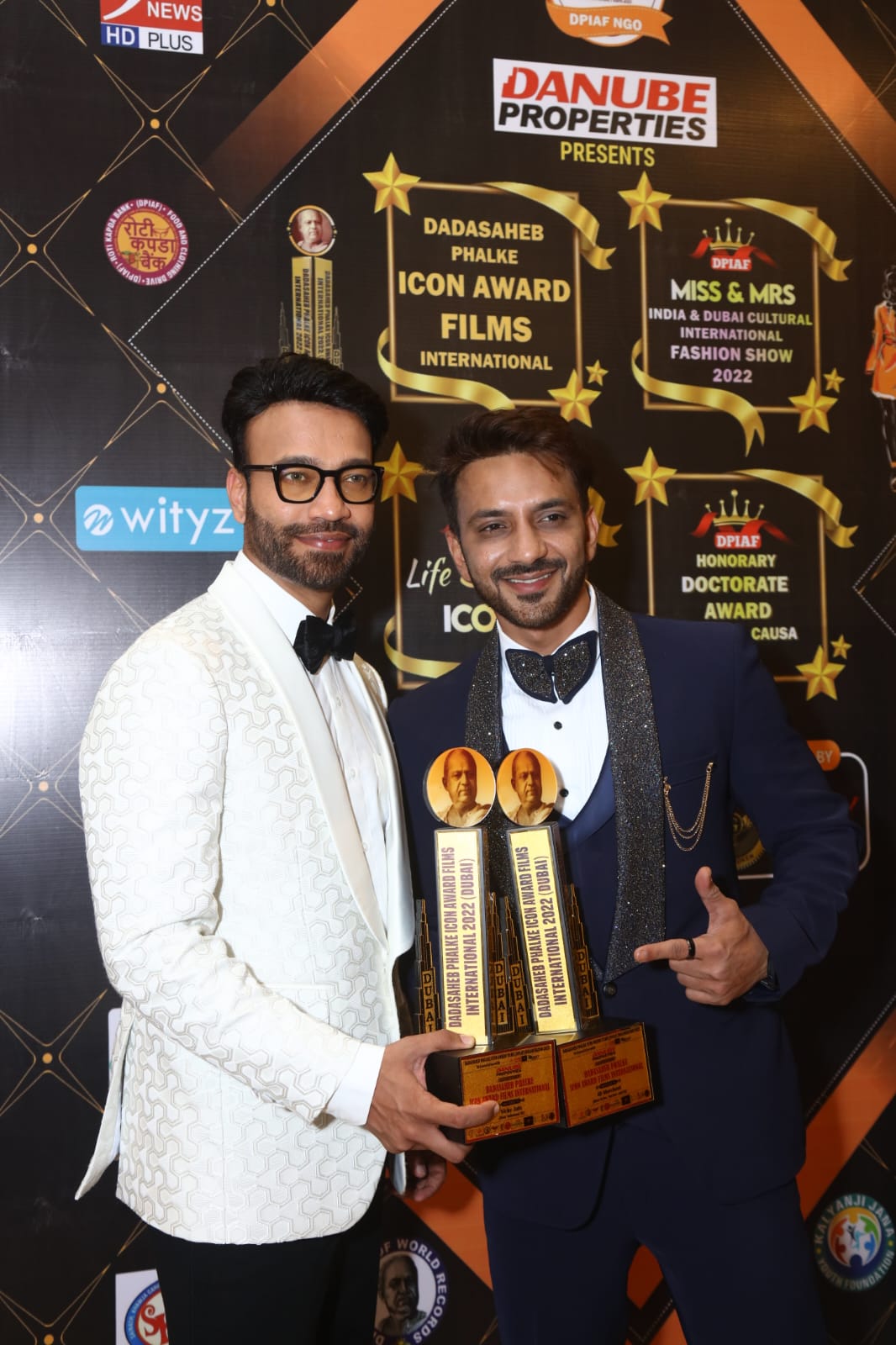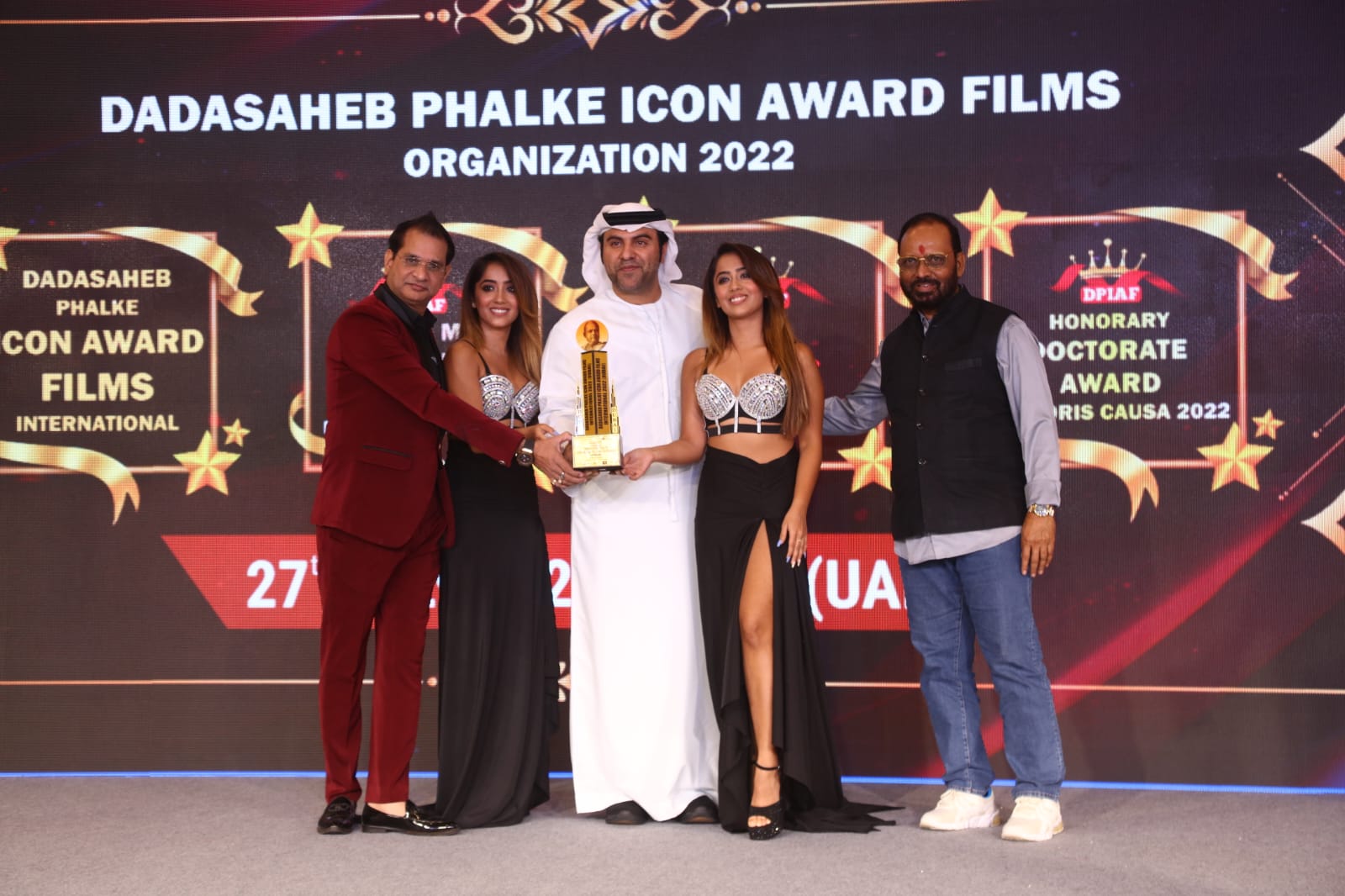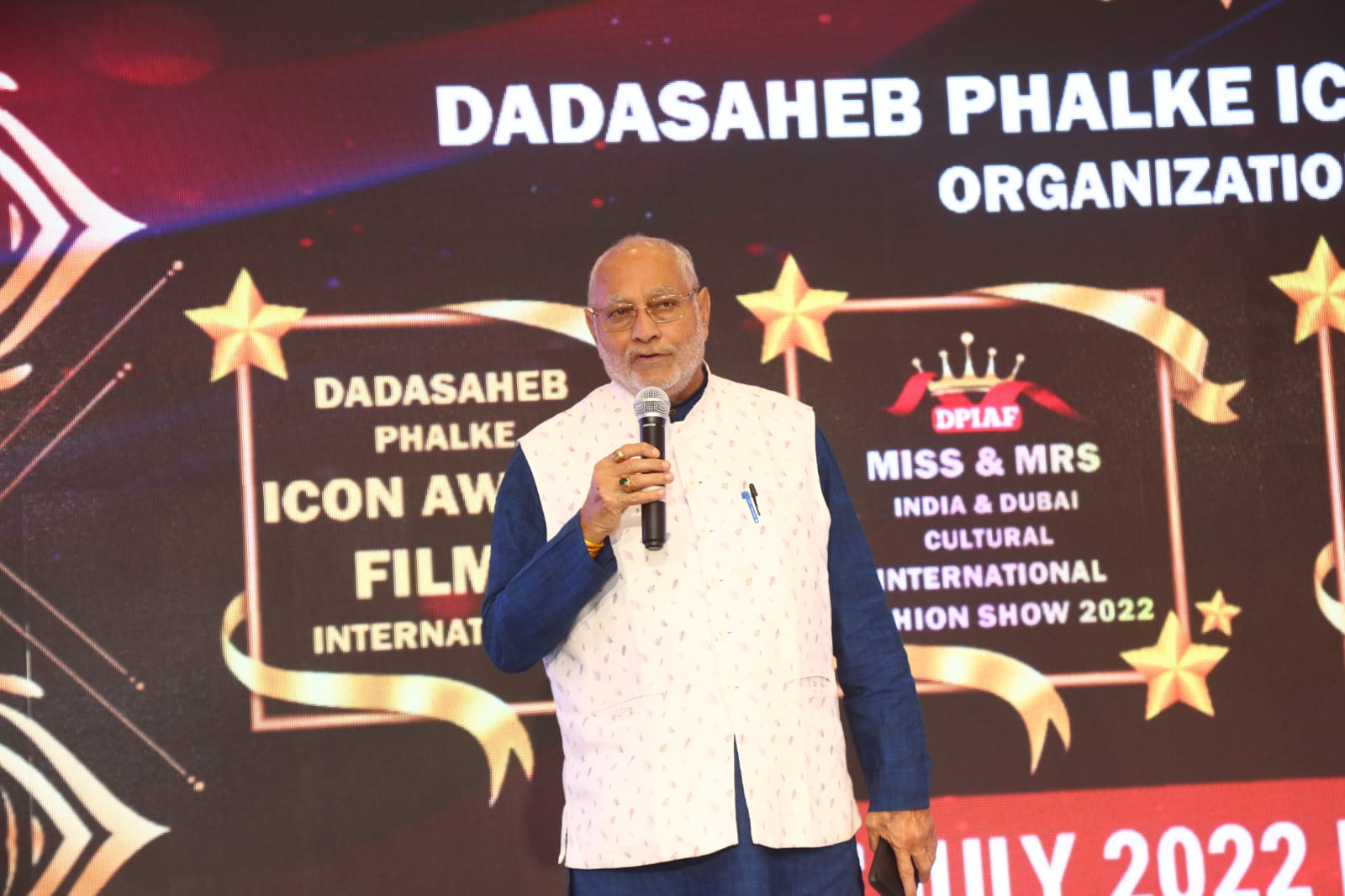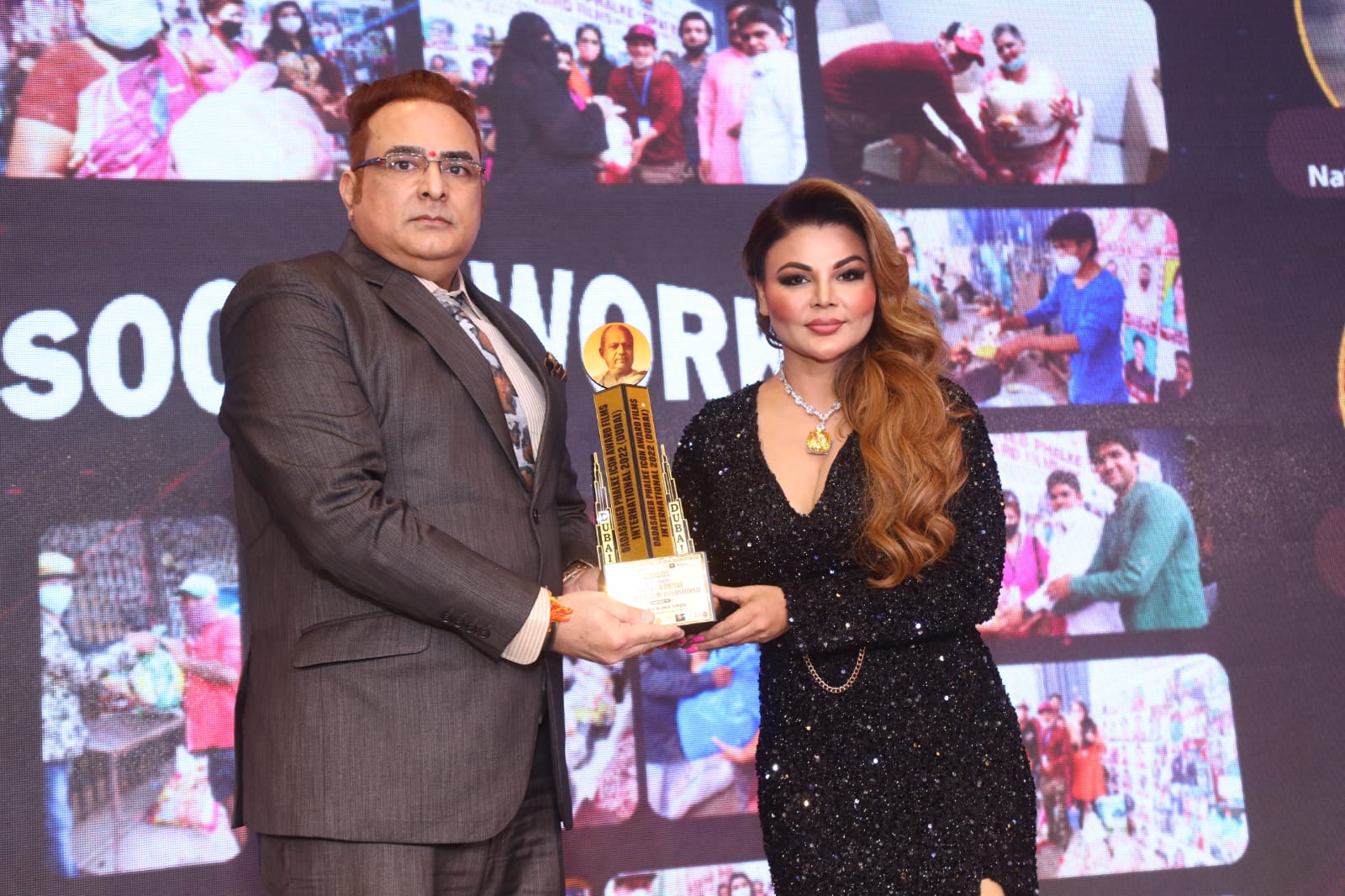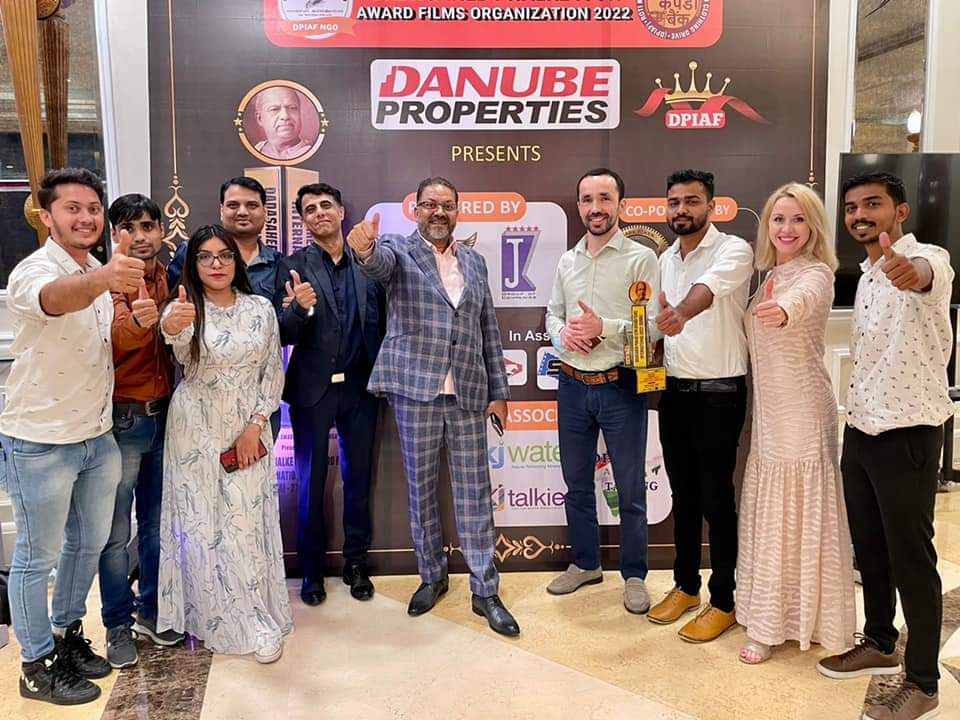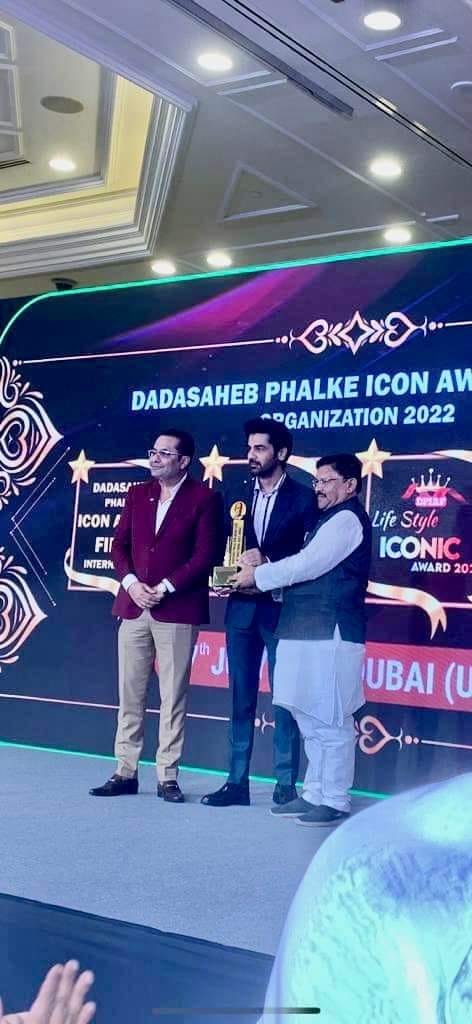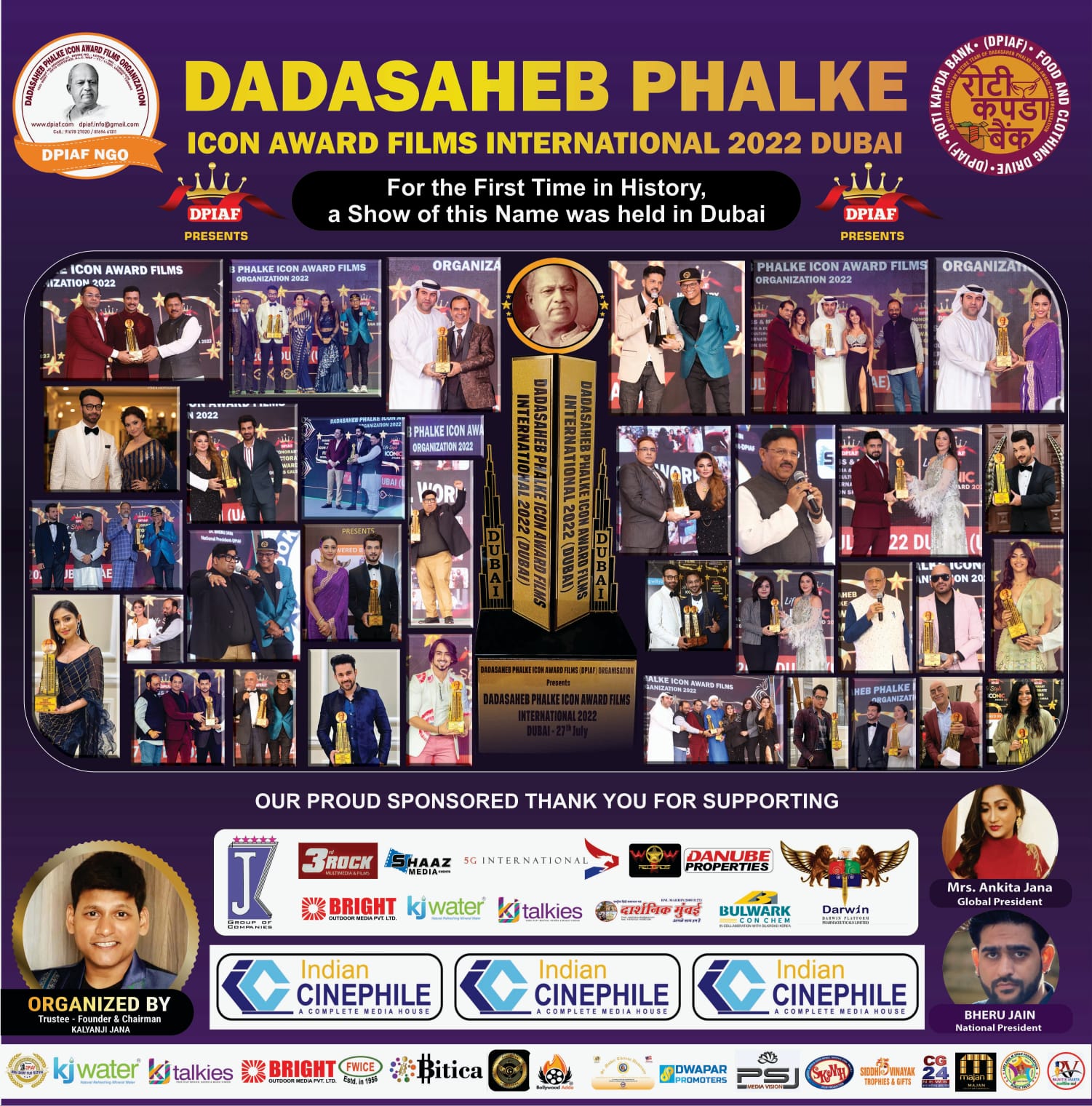 Kalyanji Jana's initiative is to further strengthen relations between India and UAE .
Dadasaheb Phalke Icon Award Films Organization (DPIAF) NGO, DPIAF- Roti & Kapda Bank,
Presents
Prestigious Award Show Dadasaheb Phalke Icon Award Films International 2022 these all have been done at Dubai's luxurious five star hotel Habtoor Grand Resort on 27th July.
Its purpose is to recognise
Shri Dadasaheb Phalke ji who is the father of Bollywood Cinema. But Shri Dadasaheb Phalke ji is not getting the respect he deserves. The person who should be worshiped like God by the people of the entire industry, is not being done. Seeing the same for the first time, an award show named by Shri Dadasaheb Phalke ji has been done successfully in Dubai through Kalyanji Jana, who is the Founder And Chairperson of Dadasaheb Phalke Icon Award Films Organization (DPIAF), NGO
Global President Ankita Jana, National President Bheru Jain and National Youth President Gaurav Anil Shah,
UAE- Senior President Jitendra Kumar Singla
UAE- President Dr. Bu Abdullah,
UAE-Vice president Jitendra matrani, UAE- Mahila Vice president jagruti Soni,
Dubai- President Sheikh Kaleem, Dubai Mahila president Leena Naresh Vatnani & Dubai Mahila vice president Nagma Khan,
Although there are many award shows in Mumbai under the name of Dadasaheb Phalke icon Award films (DPIAF) Organisation, but this is the first award show outside India in Dubai.
Kalyanji Jana and his team are taking Shri Dadasaheb Phalke ji to the international level. The purpose of this award function is that Shri Dadasaheb Phalke ji should be known all over the world Apart from Bollywood, regional cinema of different states has also been possible only because of Shri Dadasaheb Phalke ji.
Kalyanji Jana says that our film industry has completed 109 years, but there is no statue of Shri Dadasaheb Phalke ji anywhere in Mumbai .So in Mumbai his 15-foot statue Kalyanji is going to built, where he is being supported by the Cabinet Minister of the Government of India, Shri Purushottam Rupala ji, the Minister of the Government of India, Shri Ramdas Athawale ji & Shri Faggan Singh Kulaste ji the MP of North Mumbai Shri Gopal Shetty ji and the President of FWICE Shri BN Tiwari ji.
A great statue of Shri Dadasaheb Phalke ji is going to be built soon in Mumbai. In cinema halls, where shooting is done, there should be a photo of Shri Dadasaheb Phalke ji. When the film starts in the theatre, his photo should appear on the screen after the Rashtra Geet. We remember him with so much respect, he should be awarded Bharat Ratna. The highest tax to the Government of India goes from Bollywood industry.
Apart from the Dadasaheb Phalke's name award function done in Dubai, also successful DPIAF – Miss & Mrs India & Dubai International Cultural Fashion Show 2022 where culture and tourism from 28 states of our country were presented. This was the first such show. Along with this, culture tourism of seven states of UAE including Dubai were introduced. In this way the culture tourism of India and UAE was presented simultaneously. This has happened for the first time in history. At the same time, we are trying to tell the people of UAE that you only visit India once and you do not need to visit 35 countries. At the same time, we are also appealing to the people of India that if you go to UAE, then you will have the best experience of tourism there. Through this fashion show, we are working to bring the two countries together, increase the business opportunity Kalyanji Jana and his team are taking this step to further strengthen the relationship between the two countries. Dadasaheb Phalke Ji is the father of indian cinema but whenever there is any other international or national award show he is not given importance or been honoured so to bring that in notice Kalyanji Jana, Bheru Jain, Ankita Jana and many other sponsors and people have first time in india and international after 109 years of bollywood industry have given recognition to Shri Dadasaheb PhalkeJi in history. To repeat this history on international level DPIAF will take place in Dubai on 24th Feb 2023
Apart from this, the DPIAF – Life style Iconic Award 2022 will be given to those people who have made their life style through struggle.
With this is done Honorary Doctorate award, by St. Mother Theresa University (USA). These 4 events done in Dubai.
Kalyanji Jana told that I sincerely Thank You
Pahlad Modi ji (brother pradhanmantri Narendra Modi ji)
Shyam Jaju ji (National vice president BJP)
Jitendra Kumar Singla (Founder JK group Of Company)
Jitendra maltani
Mr Rizwan Sajan
Vinita madam
Nagma Khan
Sachin Katarnawre ji
Ajay harinath Singh ji
Rakhi Sawant
Ali Quli Mirza
Raaj Suri
Sheikh Kaleem
Global President Ankita Jana, National President Bheru Jain, National Youth President Gaurav Anil Shah, National Advisor BN Tiwari Ji & Abhijeet Rane ji, National
Dr. Yogesh Lakhani
Legal Advisor Shailesh Dubey ji,
UAE -Senior president Jitendra Kumar Singla
UAE – DPIAF President Dr BU Abdullah ji,
UAE -Vice president Jitendra maltani,
UAE -Mahila Vice president Jagriti Soni,
UAE Dubai President Sheikh Kalemm & Leena Naresh Vatnani ji,
Special thank you
Actor Adil durani,
Actor tahil Kamal Khan
Amit bambulkar and Abhishek bambulkar
And bheru Jain ke all family member
Special thank you
all lovely sponsors,
JK group of companies, 5G International, Danube properties, Darwin group of companies, wow records, Bulwark conchem companies, shaaz media,
Manoj Kumar Sharma,
G V2 Gabx Token
Vikas Radheshyam,
3rd Rock multimedia and film, bright outdoor Media private limited, Majan group of companies, Siddhivinayak trophy and gifts, Bitica, Fwice, Indian Cinephile A complete media house
supporters, my daughter Avika Jana, Mata Shankari Jana and Aarti bambulkar, father Bimal Jana, all members of the DPIAF team, DPIAF – creative head Mahesh Bhai.
I am very thankful God Har Har Mahadev
He further said that in Dubai we are not only going to do this show but we are going to present India's culture tourism there, we want to show that India is such a beautiful country, to unite both the countries. Today, the big stars, directors, are because of only one person whose name is Shri Dadasaheb Phalke.
All Awardee winner 2022 in Dubai
*Dadasaheb Phalke icon Award films International
Erika Fernandes (Best Iconic Face of The Year), Adil Durrani (Best New face of the year), Chinki-Minki (Best Icon Jodi Comedy TV), Priya Gupta ( National Best Womens Chef pride Award), Rakhi Sawant
( Best Entertainer & Human Being), Arjun Bijlani
(Most Popular Anchor TV,
Gauahar Khan
(Best Supporting Actress -14 Phere), Afsana Khan
( Best Singer Female),
Ankita Lokhande
(Best Popular Face TV Actress),
Mudassar Khan
(Best Show Judge Dance India Dance),
Ali Quli Mirza
(Wins Award for wallah Kaif Song & Ishqum,
Kavita Kedia
(Confident and Beautiful Queen), Bijal Doshi
( F & B Life Style Icon),
Dr. Neelam Paradia
( Excellence in Clinical & Cosmetic Dentistry),
Mr. Anuj Chuke
( Best Celebrity Manager Bollywood), Mrs. Nayala
(Best International Brindle Makeup artist),
Vishanti Coutoncar
(Social Activist), Dr. Anil Sureen
(MD-Medicine, Premier NLP Trainer /Coach & Mentor (ICF-PCC), Srishti Tiwari
(CEO N Founder Of "Naari By Srishti" Best Fashion Designer), Samadhan Hire
(Social Worker), Bharat Bhai Bhatt
( Humanity Services), Payal Kathuria
(Best Model & Actress), Vinod Bachchan
(Soundrya Production- Iconic Independent Producer Of The Year), Rajesh Puri
(Best Legend Actor) Mr. Rizwan Sajan
( Founder & Chairman Of Danube Group), Simaran Ahuja
(Best Celebrity Iconic Anchor), Prashant Sharma
( Best Journalist News India),
Monish Behl
(Best Icon Businessman & Fact News & Media Network), Nishant Sharma
( Best IT Expert),
Deeksha Sharma
( Best News Channel News India), Namita Rajhans &Tasneem Lathiwala
( Best Artist Reputation Management Shimmer Entertainment), Lakhimai Sarmah jorhat
( Assam Writer), Renu Das
( Guwahati Assam Social Worker), Dr. Asha Changmai Khanikar
( Socio Cultural Workar, Folk Dancer(Bihu), Ajay Harinath Singh
Darwin Platform Group of Companies chairmen
(Best Icon Businessman 2022), Amrita Singh
( Philanthropist Best social worker), Harjyot Oberoi Bohra
( Influential Women in Media Industry), Vivek Mishraa
( Playback Singer and Actor),
Shrutika Gaokkar
( Film Actor), Purvesh Mehta
( Motor Trade- Best Businessman), Kiku Sharda
( Best comedian TV 2022),
Jitendra Kumar Singla
( Best Icon Businessman (UAE), Arjan Bajwa
( Best Actor for Amazon Series-Bestseller), Meena Sethi Mondal
( Educationist and Film Producer), Dr. Syed A. Mehndi
(Best Icon Businessman 2022), Amiee Misobbah
( Bollywood Upcoming model and Actress), Dr. Fasi Khurram
( Founder, Producer and Festival Director WFF & World Oscars Awards),
Nivedita Basu
( Best content Creator TV & OTT 2022), Raminder Singh
Founder and CEO. Celebfie
(Most Visionary and Innovative Entrepreneur in the entertainment Industry),
Samir Mulla
( Blockchain Counsellor and motivational Speaker),
Dr. Sahil Kadari
( Bitica Blockchain Founders & CEO /CMD
Block beats Companies),
Satish Sanpal
(Owner of VII Club), Mrs Shikha Sahu
(Best International Iconic Model), Ivan Kazi
( Founder and Chairman Rama Real Estate), Fasi Khurram
( Founder, Producer & Festival Director WFF and World Oscars Awards, Sana Islam Khan
(Cute Face of 2022),
Nikki Tamboli
(Super hot celebrity),
Suraj Jumani
( Emerging Business Icon),
Ravinder Soni
( CEO Influential Business Icon UAE),
Dr. Pradnya
( Excellence in Sports Medicine), Hari Singh
( Alternative Medicine And Therapist), Fazil Ahammad
(Cloud Nine Event Management L.L.C),Raaj Suri
( 3rd Rock Multimedia),
Wow Records
(Capt Vikram Pandey), Nagma Khan
( Best Management Company UAE), Akansha Puri
( Mika dii voti Winner),
Memory of late Shikhaji
( Danaos Ship Management),
Abhishek Nigam
( Best Brother Jodi TV),
Siddharth Nigam
(Best Brother Jodi TV),
Nikita Rawal
(Best Actress and Dancer),
Adnaan Shaikh
( Best Instagram Influencer),
Abhishek Bajaj
( Best Personality Actor),
Donal Bisht
( Best Personality Female TV),
Yogesh Lakhani
( Best Outdoor Media Partner Bright), Gaurav S. Bajaj
( Best Chocolate Hero TV),
Yuvika Chaudhary
( Best Energetic Actress),
Punkaj Berry
( Best Supporting Actor),
Neha Silva
( Fashion Show Participate),
Vicky Jain
( Best Debutant TV),
Darshan Kumar
( Best Actor Male Kashmir Files), Mourjo Chatterjee
( Best Celebrity Manager),
Ali Merchant
( Best Actor, Anchor and Dj),
Zaid Darbar
(Best Dancer and influencer ), Ms. Sana Sajan
( Woman Achiever Of The Year), Ms. Shabnam Kassam
( Brand that Cares- CSR Initiative of the Year),
Ms. Vinita Hirani –
Rising Star- PR and Marketing Manager Of the year), Dr. Jiana Shah
( World Record Holder World Book of Record London- Best Child Prodigy 2022), Saran Sasi Kumar
(Renowned young Artist of Dubai UAE),