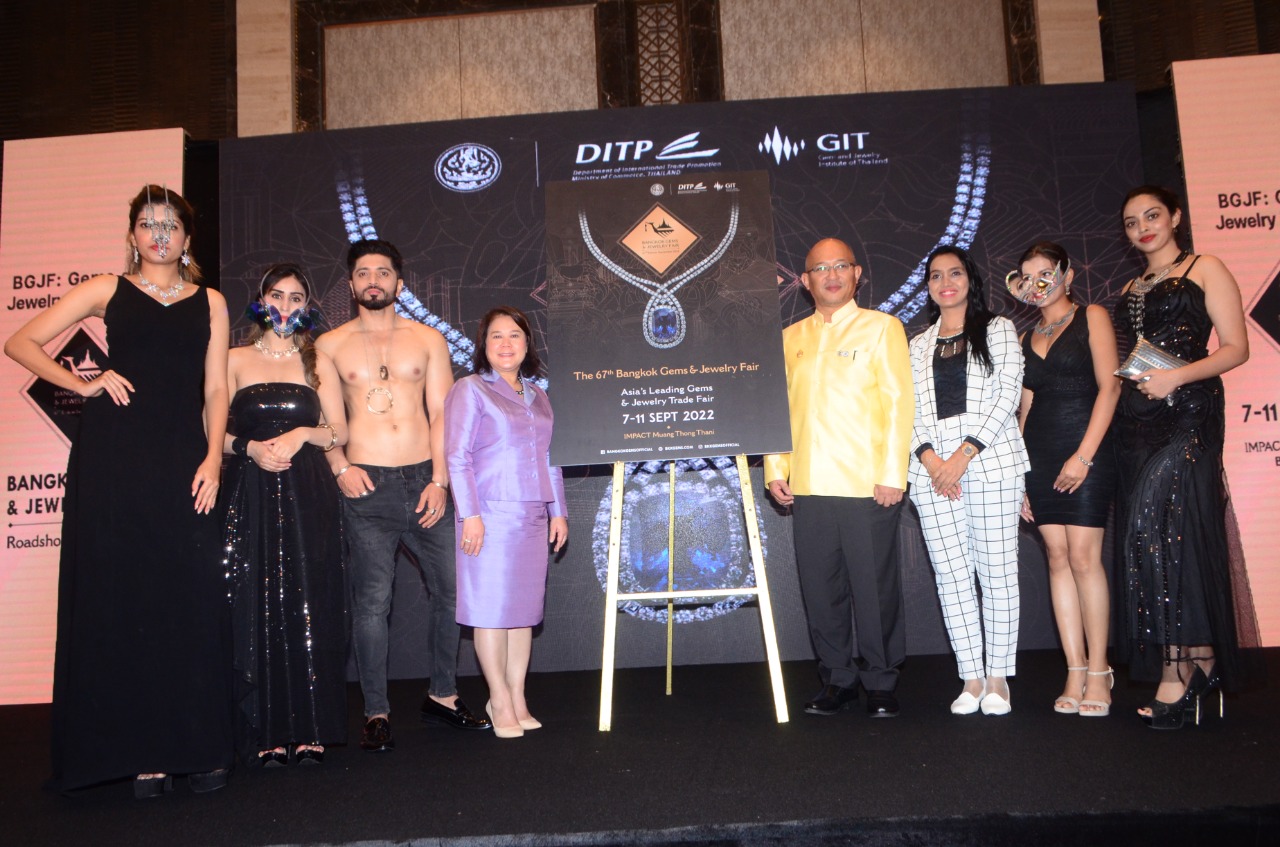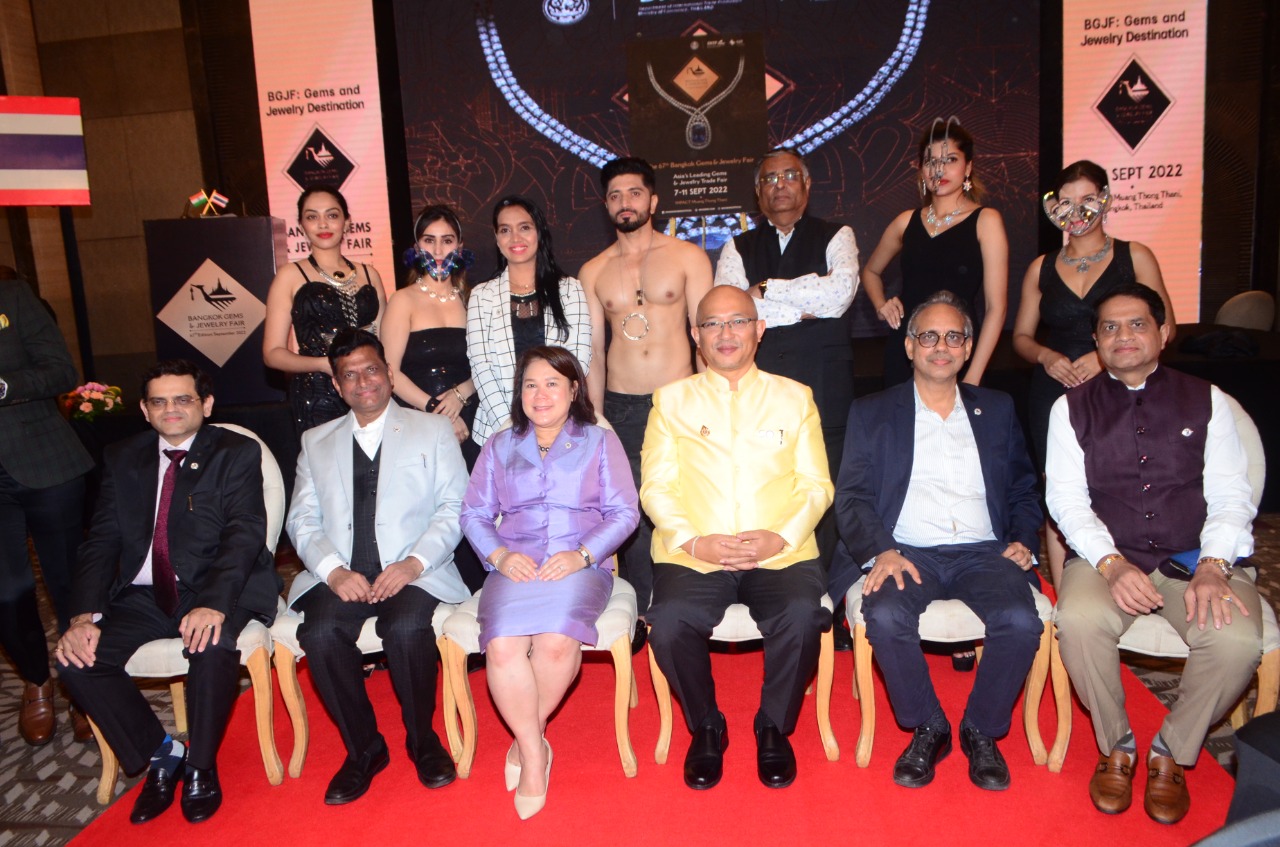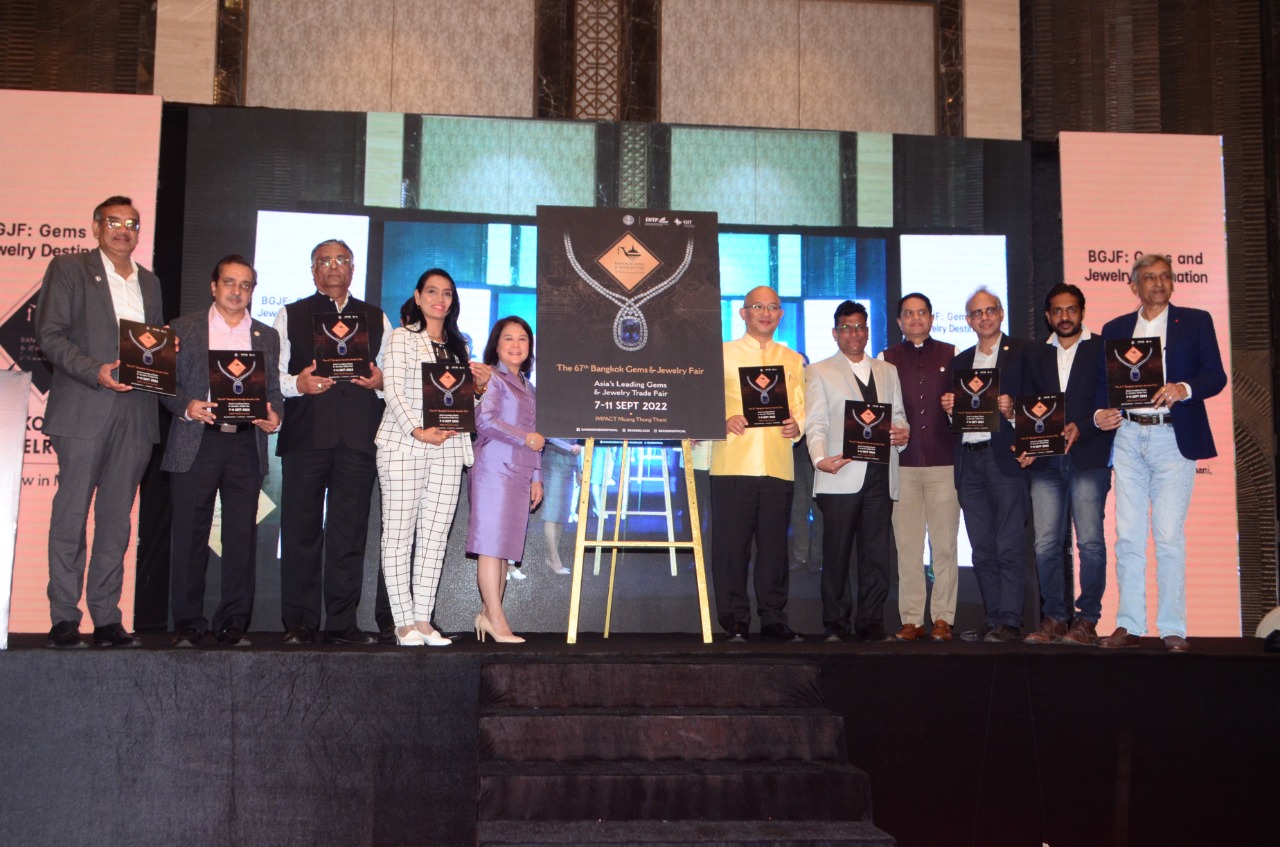 More than 25,000 Visitors & 1,200 Million Bahts of Revenue is expected from this edition
August,2022: Thailand's Ministry of Commerce, Department of International Trade Promotion (DITP) with Gem and Jewelry Institute of Thailand (GIT) delegates & Thai Trade Centre, Mumbai, conducted the "Let's Go To Bangkok Roadshow" for the 67th Bangkok Gems & Jewelry Fair (BGJF) to be held from 7-11 September 2022 in Bangkok. The event was followed with an exclusive fashion show with models displaying an array of Thailand's Gem & Jewelry to the visitors, "
India's Lab Grown Diamond & Jewellery Promotion Council (LGDPC) & DITP also came to an understanding on how both the countries can leverage each other special resources exponentially. LGDJC proposed to export a substantial number of Lab Grown Diamonds Gold, Silver & Rubies to Thailand & in return Thailand will export their ruby, silver & white gold worth the same amount to India. This will further boost the economy & solidify the bilateral trade between both countries
India has been a Key market for Thailand's G & JS exports, especially the silver jewellery. It has been exponentially growing at the rate of +158.21% from the last year. Both the countries shares unique civilization links going back several millennia. In the recent years both these neighbours have been sharing an excellent multilateral & business relationship in various sectors`
DITP's recent report states that Thailand's gems and jewellery exports (excluding gold) have risen to 3,884.21 million USD between January to June 2022, a 40.96% increase from the previous year. Among the main markets like the US, Hong Kong and Germany, the Indian market has generated the highest export value, a total of 149.21% increase from products like diamonds, gemstones, pearls, jewellery, synthetic stones, precious metals & other products clad with precious metals.
India has been the top visiting country for the BGJF fair since many years, both in terms of footfalls & trade volumes. Even for this 67th edition Indian visitors registration has been on number 1 slot with many more registrations pouring in. BGJF is a very important trade platform especially for Indian exhibitors. Primarily because being neighbors, both the countries share almost similar culture & heritage not only in terms of existence & food habits, but also in terms of fashion and lifestyle. For an Indian buyer or importer this exhibition gives a nearby & readymade platform to access the latest range of designs of gems and jewellery uniquely created by Thailand
BGJF is the biggest Gem and Jewellery Fair not only in Asia, but throughout the globe. DITP has been continuously playing an essential role in promoting Thailand's gems and jewellery industry globally. BGJF 2022 ,which will be held at Impact Challenger Hall, Muang Thong Thani, Bangkok will display more than 800 exhibitors & 1,800 booths. More than 10,000 visitors & 1,200 million bahts of revenue is expected from this edition. Established players & entrepreneurs from all over the globe will be able to network with manufacturers, buyers, importers ,distributors & exporters from Thailand & worldwide across all ranges of gems, jewellery, gemstones, Gold,Silver to packaging, equipment, tools & machinery.
Pics : Ramakant Munde Mumbai